Best Podcast Hosting Platforms for New Creators
It's all well and good creating the perfect podcast, but where will you share it? Here are some of the best podcast hosting platforms for fresh pods!
Podcasts have become an incredibly popular entertainment format. You can find shows for film buffs, podcasts for content creation tips, or audio fuel for freelancing forays. The audio-based medium is incredibly accessible in terms of creation too. Unlike vlogging, which requires expensive camera equipment, mics, lighting, as well as in-depth editing know-how, podcasting requires relatively little kit.
To create a quality podcast you really just need a great mic for recording your voice. You can access free software for recording and editing podcasts, plus you don't need heaps of technical knowledge or skill to produce something half decent. You can check out an array of channels on YouTube that will teach you how to podcast like a pro for free as well!
Once you've come up with a cracking idea for a podcast, written scripts, recorded discussions, and edited episodes, it's time to share it with the world. But, hang on a second… Where's the best place to put your new pod baby? Do you have to pay to have a podcast available on sites or services? Are some platforms better for new podcasts than others? That's a lot of things to consider and questions to find answers to.
We've done the digging for you, and can answer all those questions right here!
Best Podcast Hosting Platforms
First off, whether you pay for podcast hosting is up to you. Different hosting sites will have different prices, if any at all. Some are free (and we've included some in this list), but that usually means limited features compared to paid hosting.
Some platforms are better suited to newbies since they offer extra features that could help you through the podcasting process. For instance, some sites have additional mastering functions to ensure your content sounds crisp on all platforms. The free sites tend to be a little more basic and no frills. How much you want to invest at the start is your decision. Let's kick off the list and look at what different platforms have to offer.
Podbean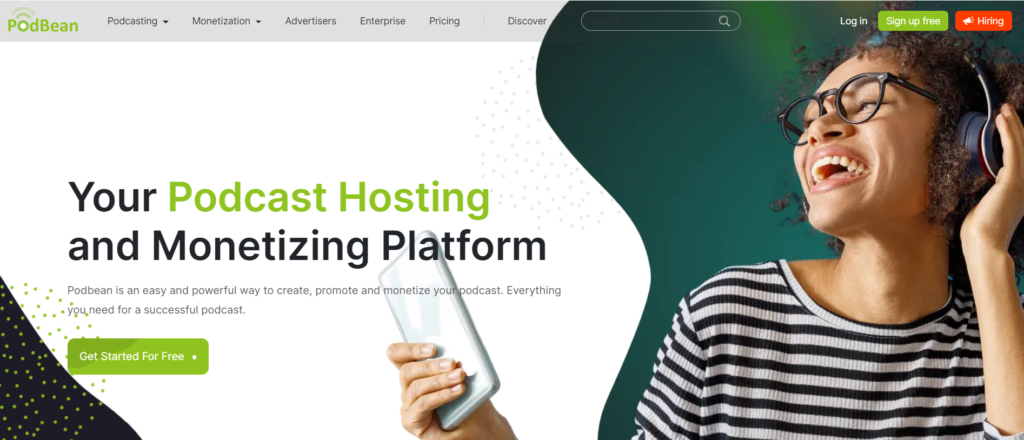 If you're money conscious, Podbean is one of the most affordable and budget-friendly podcast hosting platforms out there. The key points of this platform are the handy free plan, unlimited bandwidth, and options for monetisation. As I mentioned before though, the affordability comes at a cost. You don't get additional audio correction functionalities with Podbean, so will have to take care of this yourself externally.
If you're happy to pay for your podcast hosting then Podbean plans range from $9 per month to $99 per month. Happily, the $9 option should suit the majority of indie podcasters. Each plan offers unlimited bandwidth, meaning you can release episodes of any length and an unlimited number.
The monetisation options enable you to place your podcasts in the advertising marketplace. This means that your podcast could get matched up with advertisers you could potentially work with.
Initially, you can test Podbean through its free plan, which allows you to store 5 hours of audio and offers 100GB monthly bandwidth.
Buzzsprout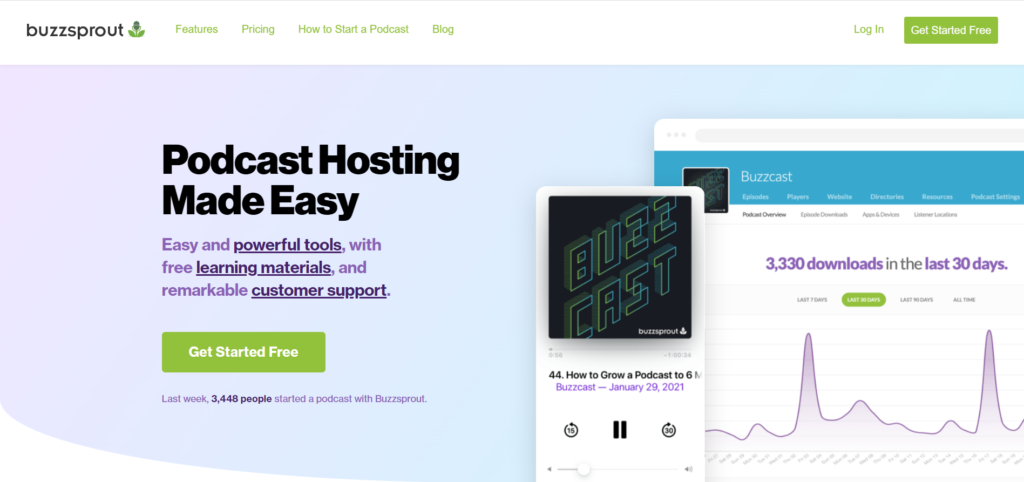 Buzzsprout is one of the best podcast hosting platforms thanks to its powerful tools, free learning resources, and easy to read stats. It prides itself on being the simplest and speediest platform to use, making it ideal for newbie podcasters.
The automatic optimisation tools mean that you can just upload your podcast and the platform will take care of the rest. You can also keep your podcast organised by taking advantage of the chapters feature. Even if your podcast is on the shorter side, you can arrange it neatly into sections.
You can hop on the free plan, which lets you upload 2 hours of audio a month, or choose from 3 paid plans for more freedom. These allow more storage, from 3 to 12 hours monthly, and the most expensive plan being $24 per month.
Captivate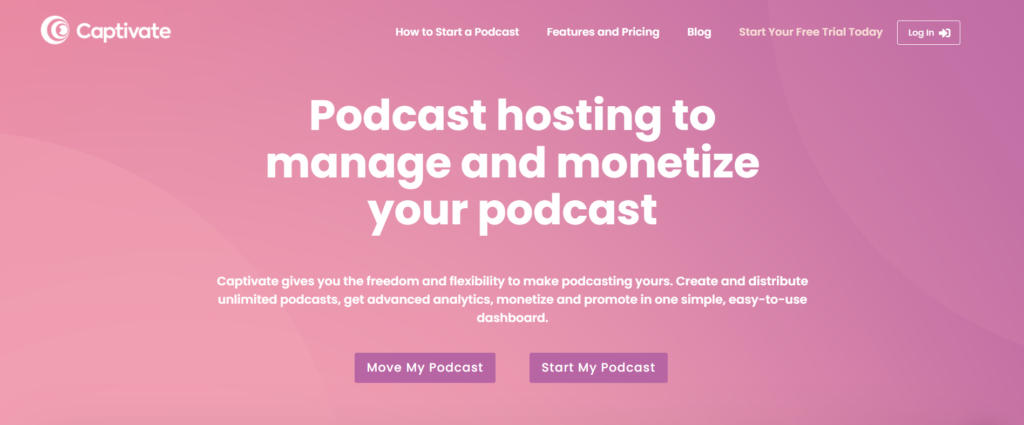 If you're creating podcasts as part of a large team, Captivate could be one of the best podcast hosting platforms for you.
Work will unlimited team members, so you can share the load when it comes to working on your podcast. This platform also offers a huge range of features, including unlimited storage on the personal plan and access to the Captivate Growth labs.
If you're a podcaster looking to grow, the in-podcast call to action options will appeal to you. Share links to your Patreon or website within the podcast, and boost chances of monetisation. The simple and intuitive interface means the beginner and experienced podcaster will enjoy this platform. The only drawback is there isn't a free plan. Instead, you can try for free for 7 days, before parting with £17 a month on the lowest priced plan.
Transistor.fm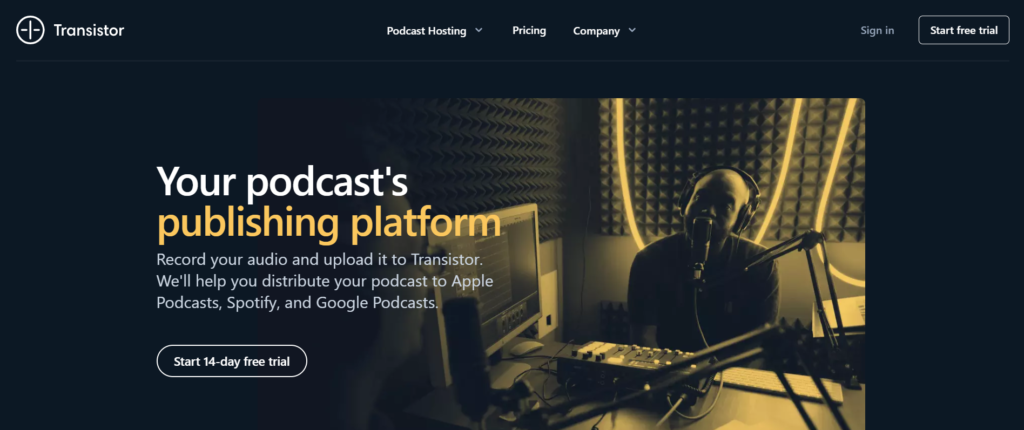 Transistor is fairly similar to Captivate since both platforms offer unlimited storage space. This platform is a great choice for both independent podcasters and bigger businesses. Transistor offers analytics that help you track your podcast's performance. You're also able to host multiple podcasts, including private podcasts.
Similarly priced to Captivate, Transistor offers plans costing $19/mo, $49/mo, and $99/mo.