5 Video Creation Platforms You Need to Try
Looking for new marketing materials to promote your latest project? Here are the top video creation platforms that make in-browser video editing a breeze!
There are lots of fantastic video editing software options available. Some can set you back a pretty penny, and some are completely free! However, if you're not shooting your own video and editing vlogs, what do you do?
If you plan on sharing videos on YouTube as a way to grow a channel or promote your latest work, you can't just steal other people's videos. In order to stick within best practices of most video sharing sites, you need to use footage that has been cleared for use. Without splashing out on a camera and attempting to film your own video, why not try video creation platforms?
Sites like these mean you don't have to download software in order to edit videos, but also provide you with the video in the first place! If this is a new concept to you, don't worry. We've listed our favourite video creation platforms, so you can figure out which one is the perfect one for your latest project!
Promo
As the name suggests, Promo is a platform designed to help you create promotional marketing videos for your brand and business. A comprehensive and beautifully easy to navigate site, Promo features over 23 million video clips, royalty free music, and loads of awesome templates. Importing your website and business info means you can add your branding and logo to videos right off the bat too!
You can choose from a practically unlimited supply of media, meaning whatever it is you're trying to promote, there'll be something for you. Searching with keywords means you can narrow down your discovery, and templates steer you in the right direction. You can even create videos specifically for YouTube intros – perfect for increasing your brand awareness on the world's second-largest site.
Videos created in Promo can be shared across all social media platforms, as well as blogs and websites. You can even create memes and GIFs, perfect for boosting your social media marketing game too!
You can choose between a basic, standard, or pro package, priced at $18, $31, $111 respectively. These are billed annually, so no need to worry about your subscription each month. Even on the lowest package you can publish unlimited videos! All this makes Promo a solid choice for smaller brands on a tight budget.
FlexClip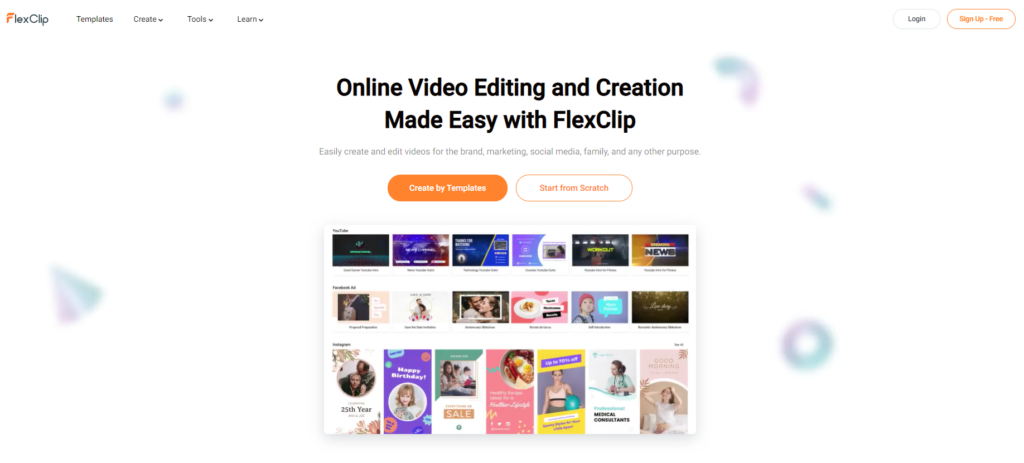 FlexClip brings you online video making and editing made easy. Built for everything from marketing to family use in mind, the online video creation platform offers flexibility (surprise, surprise) and freedom for creativity.
With millions of royalty free stock media up for grabs, including video, images, and music, you can easily realise any kind of video idea you had in mind. Further to this, there are over 1000 exquisitely designed templates to choose from. These cover a broad range of categories, including social media, making FlexClip a brilliant option for any online content creators. Supporting pros and beginners, the Learn section on the site is perfect for anyone who may need some guidance before diving into video creation.
The Cloud-stored function means that you are able to create and edit videos across multiple devices, so you never have to worry about keeping track of multiple copies in various places. The platform also supports screen recording – ideal for tutorials and how to content. Handy video format conversion adds to the freedom that FlexClip affords.
You can create an account for free, giving you access to 480p downloads and 1 stock video per project. Paid accounts include Basic, Plus and Business, billed at  $119.88, $239.88, and $359.88 per year respectively. Paid accounts offer various privileges, including 1080p quality, unlimited stock videos per project, custom watermark, and increased Cloud space.
Animaker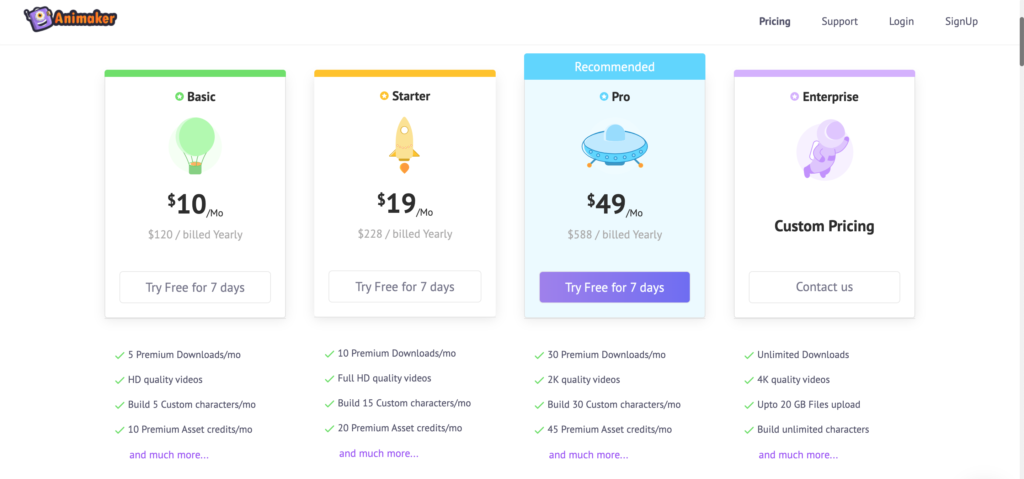 Offering a wonderfully simple drag and drop editor, Animaker is perfect for beginners or the more advanced marketer. It is a video creation platform that allows you to make live action and animated videos for any occasion.
The animated aspect is great for creating customised characters. This is ideal for seasonal branding changes or creating marketing for any fun updates within your product, project or brand. Animaker is also run on HTML5, an extremely powerful engine resulting in seamless editing on optimised browsers. Access an array of professionally made templates, with every single element customisable. Quality isn't wanting here, with 4k video an option.
Each package comes with a 7-day free trial, meaning you can dip your toe without committing first. Choose from Basic, Starter, Pro, or Enterprise. The starter package is $19 per month, billed annually, and offers 10 premium downloads a month. This package also gives you commercial rights, so you can monetise your promotional videos on YouTube without a worry!
Biteable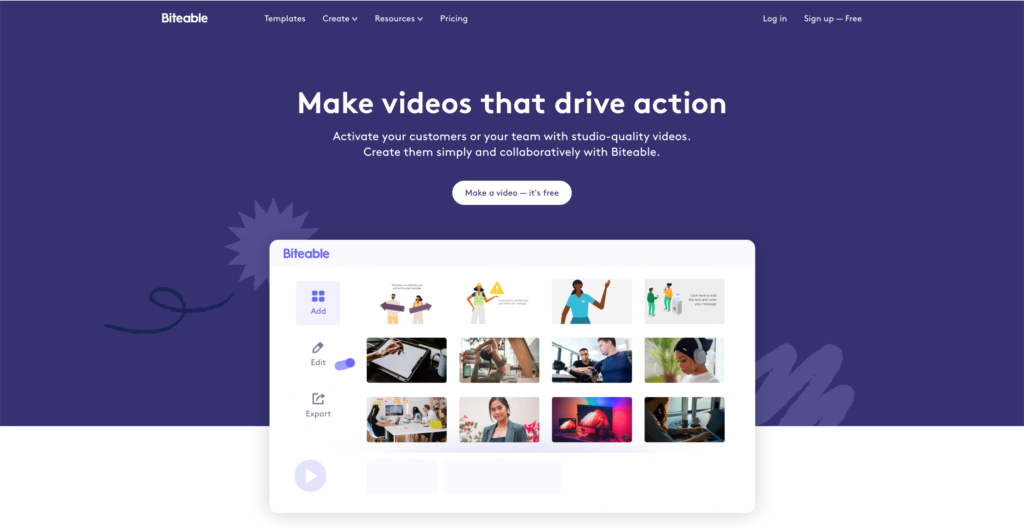 With simplicity a key selling point for Biteable, this video creation platform is great for those looking for speedy videos. You can try it out for free without exchanging any payment details, so even the sign-up process is simple. Collaboration is also a key feature for this site, and the option to add your team, if you're a business, certainly promotes this.
A huge range of templates means you can get a video up and running in seconds. Recently added templates also lets you stay on top of any current trends, without you having to do the legwork. Searching through animations and live action video via a text box means you can find exactly what you're looking for in an instant. The interface is super intuitive and straightforward. There is a slight lack of customisation, however, particularly in terms of text.
The free plan does offer great access to features, although all videos will feature the Biteable watermark. Plans start off from $19 per month.
Animoto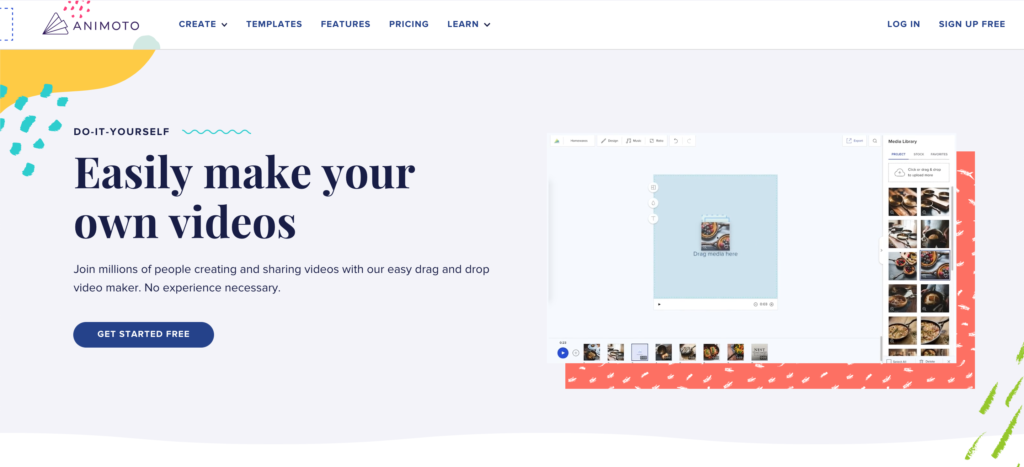 Perhaps the most affordable on our list, Animoto is a video creation website that promotes a DIY approach to making videos easily but effectively.
Features include a huge stock library of both videos and images, powered by Getty Images, heaps of fonts, stickers, overlays and customisation options. You can create unlimited videos, meaning there is no cap on your creativity. Plenty of time-saving templates means putting together a professional video won't eat into your busy schdule. You can also crop and trim videos within the platform, meaning no need for external editing software.
The free plan generously allows unlimited downloads, however videos will have a watermark on them, and things like fonts and colour swatches are limited. Paid plans start off at just $6 per month, though!
InVideo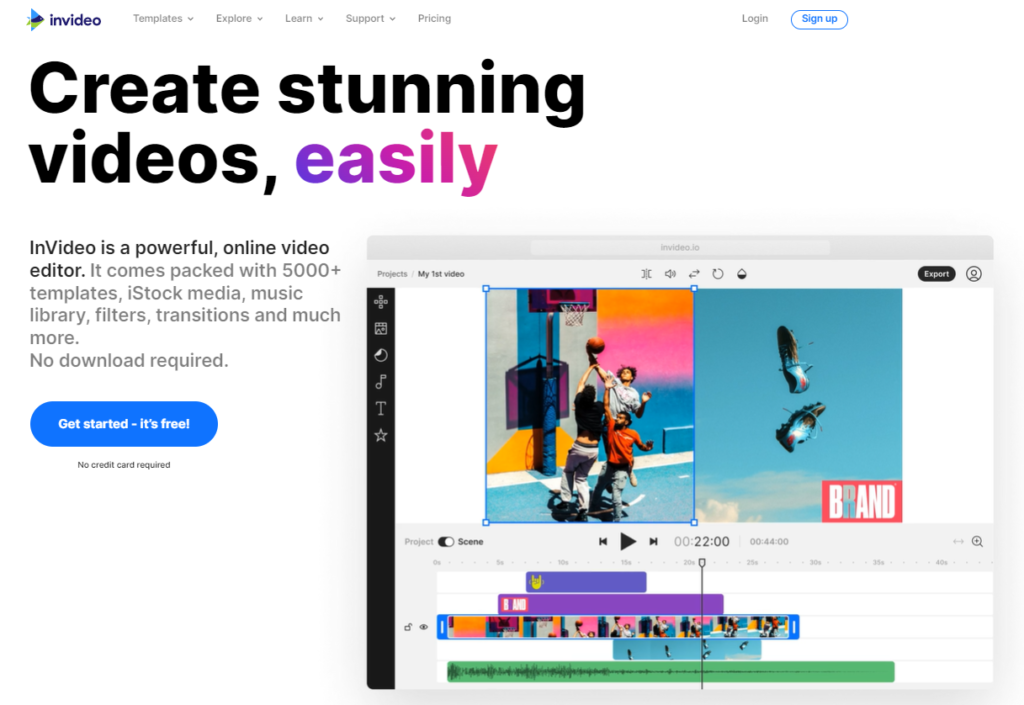 Anyone creating videos on the fly wants it to be easy, and InVideo understands that just as much as everyone else. Thousands of ready-to-use video templates means you can get off to a flying start. Whether you're creating an advert, promoting a discount, showing off a testimonial, or highlighting a product, there's a template waiting for you.
A broad range of vectors, stickers, and masks can also be added to give your video creations that professional and customised look. There is a trial option, but paid users get access to a 3 million + media library. Filters and transitions enable you to imprint your own style on videos, letting creations sit nicely within your established brand.
Videos can be created in vertical, wide, or square. This means you can format videos to different social media platforms accordingly. It's worth noting that you can't reshape videos once you've started editing, though.
As a paid customer, you can hop on the Business or Unlimited plan. Pricing starts from $9 per month.