Christmas Food Ideas | Festive YouTube Content
Christmas means celebration, sharing, and fun. It also means food, and content! Check out these Christmas food ideas that you can share on your YouTube channel.
If you're an avid YouTuber, you'll constantly be on the hunt for fantastic ideas for videos. This will be your story all year round, and sometimes you'll have to dig deeper than others. The holiday season is a busy time, but fortunately it is a goldmine for quality content. There are all sorts of festive video content ideas to play with as Christmas approaches.
Do you love creating irresistible food videos? Foodie YouTube fanatics can really have fun during this season of indulgence and treats. From Christmas classics to far-out festive dishes, here's our list of Christmas food ideas to help with your seasonal video content!
Roasted Beet Goat Cheese Salad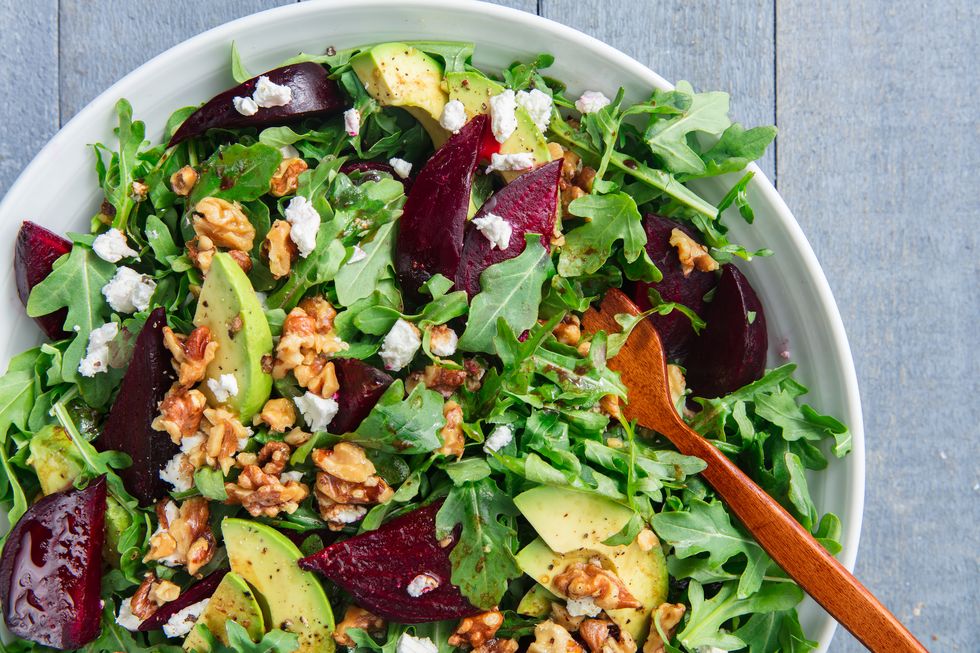 Lots of people are adamant about certain things that do or do not belong on the table at Christmas. But, you definitely have more fun when you keep an open mind, and it's no different with food. If someone suggested eating salad at Christmas to me before I saw this recipe, I'd have had some choice words for them. But, this roasted beet goat cheese salad recipe from Delish is far too mouthwatering to turn your nose up at.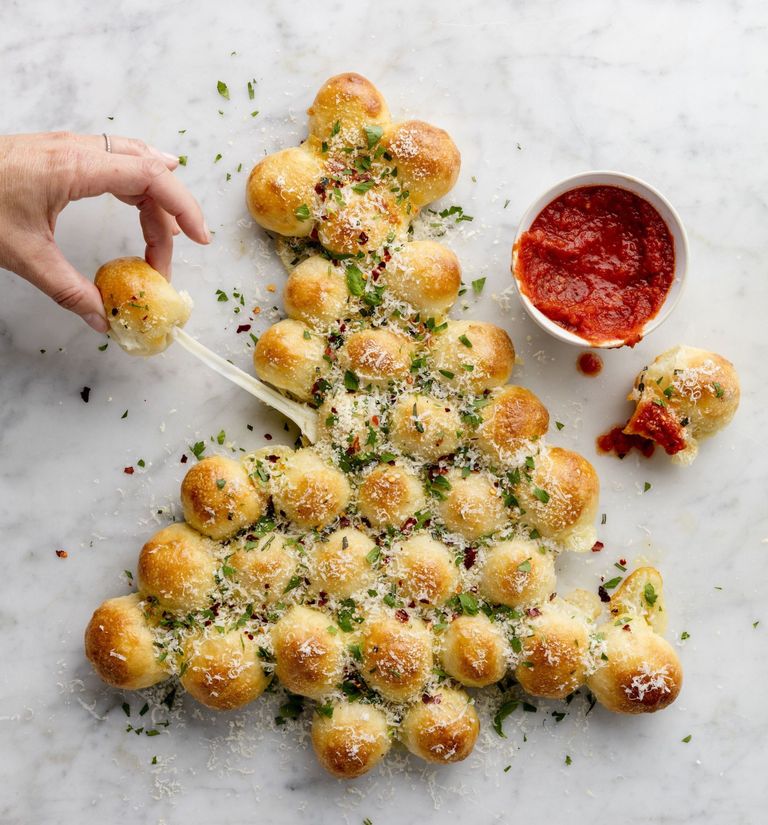 Pull-Apart Christmas Tree
Perhaps the most obviously Christmassy of the Christmas food ideas here. Highly aesthetic and truly scrumptious, this pull-apart Christmas tree recipe will make for engaging viewing that your subscribers will lap up. You can use pre-made pizza dough, or, if you like to challenge yourself, you can make it from scratch. Melty mozzarella and punchy Parmesan, matched with fiery garlic and squishy dough… It's pizza balls, isn't it? What's not to love about that. Serve with a pot of warmed, rich marinara for dipping, and you'll wonder why pizza didn't feature more at Christmas before.
Wild Mushroom Toasts
Sticking with the starters for now (because they're the best bit, in my opinion), this recipe for wild mushroom toasts from Good Housekeeping is enough to convert any fungi-phobe. Grabbing a nice variety of mushrooms is what makes this dish delicious. You can forage for your own if you're confident, but take care to ensure they are edible and not the nasty, poisonous type! That'd be a sure fire way to put a dampener on your Christmas. Ricotta and goat cheese gives these bites a sumptuous, creamy richness, and decent wedges of crusty bread are an absolute must.
Cranberry Brie Bites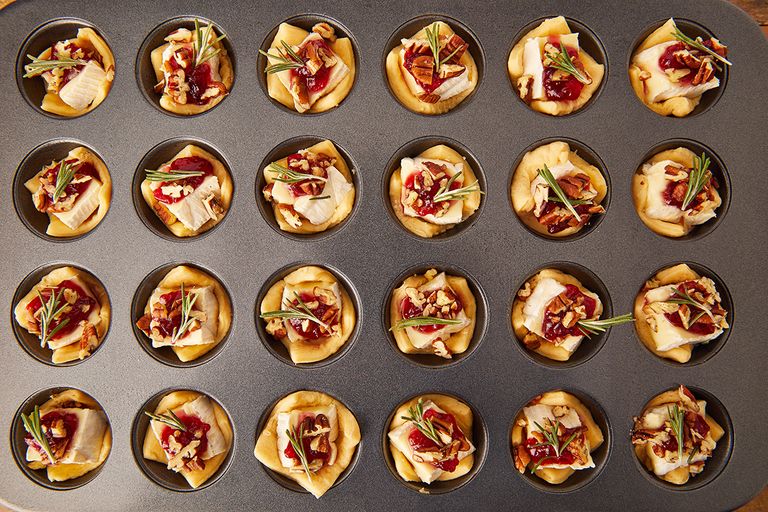 Two words that scream Christmas for me: cranberry and Brie. This delectable recipe, again from Delish, brings warm, comforting dough with sweet cranberry sauce and oozy luxurious cheese. Once again, you can use ready-made dough, or if you want to show off to your subscribers, have a crack at making your own. This recipe is beautifully straightforward, and just involves construction rather than any serious cooking, making it great for those who aren't so culinary-confident. You'll just need a muffin tin and the ability to wait 15 minutes whilst it cooks. Doesn't sound like a long time but, I'd be impatient for these little guys to be ready.
Fresh Herb Stuffing
Now, onto the side dishes. No roast or Christmas dinner is complete without some delicious, fragrant stuffing. This fresh herb stuffing recipe from Country Living is one that can be simply thrown together, and doesn't require much in the way of finesse. Stuffing doesn't ever need to be neat and tidy to taste great, does it? Making sure your thyme and parsley is fresh is going to guarantee bags of flavour here. Save it all for serving on the side, or use it to stuff whichever bird you've chosen to be the star of your seasonal dining show.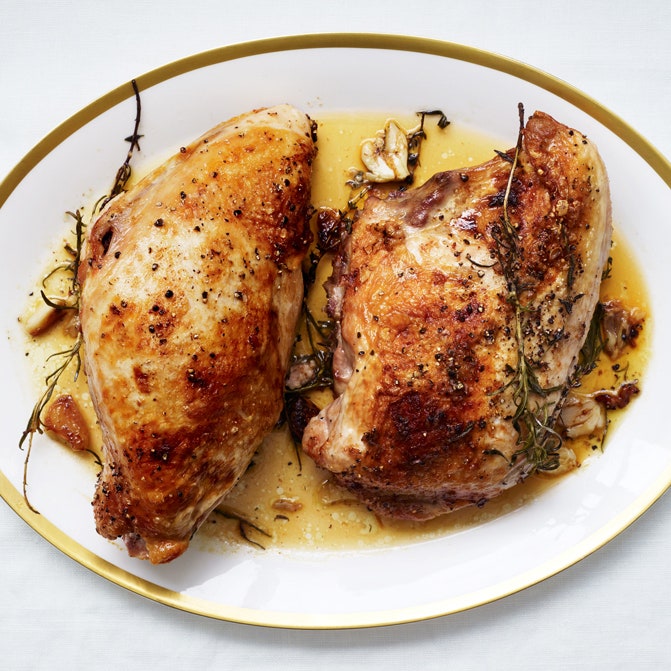 Butter-Roasted Turkey Breasts
Turkey tends to be the classic at Christmas. Do people actually eat it at any other time of the year? If you're prepping a smaller dinner, or don't fancy loads of meat on your plate, this recipe is ideal since it uses only the breast. Plenty of butter to keep the meat tender and moist is important, and garlic and herbs to give it an irresistable flavour and scent is key. Again, this dish is speedy in comparison to roasting the entire bird, so if you don't want to spend hours waiting for dinner, this could be the recipe for you.
Fettuccine with Crab, Crème Fraîche, Lemon, and Tarragon
Just as pizza should get more air time at Christmas, so should pasta. Christmas Eve is an opportunity to kick off the thoughtful, exciting cooking a day early. This fettuccine and crab recipe from Bon Appétit is the perfect simple but semi-fancy Christmas Eve dinner to enjoy with friends or family. Decadent and flavourful, you get all the comfort of your favourite yellow carbs, with the freshness of crab meat and lemon. If you live by the coast, you could even go crabbing for ultimate freshness, and make a day of it.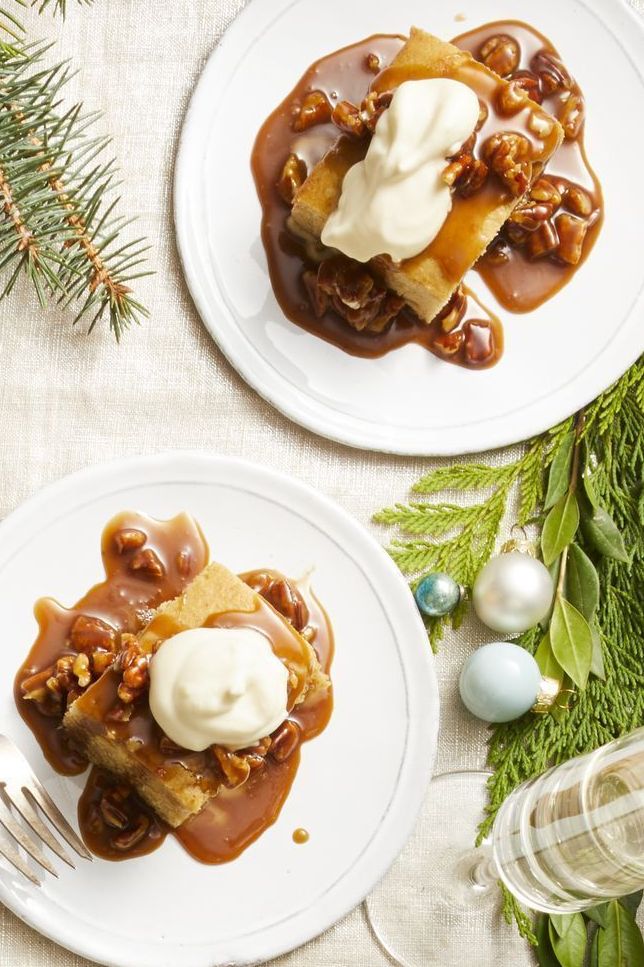 Sticky Toffee Pudding
It's finally time for dessert! I know I said staters are the best bit, but, so is dessert. It's all the best bit. If you don't like the classic fruity boozy Christmas pudding, could do without marzipan, and have had your fill of chocolate from the sweet tin, this pudding is for you. Sticky dates provide sweetness, and espresso gives a beautiful depth of flavour. Toffee pecan sauce gives the whole pudding a slightly more sophisticated feel, making it ideal for a celebratory seasonal gathering. If your YouTube channel is all about baking, this recipe will make for some fantastic Christmas content.
---
With all these Christmas food ideas, your channel will be full to the brim with festive content. The only thing that would make these recipe videos more irresistible is some tasty royalty free music.
Sign up to Synchedin, and discover a huge library of awesome music, all available to feature in the background of videos. Covered by one simple license, you won't have to worry about copyright issues this holiday season, and isn't that the best gift of all?
Subscribe now to access unlimited downloads of all tracks, including some suitably seasonal sounds, and make your Christmas content sparkle!