How to Make a Private YouTube Video
Whether you're not ready to share your fresh content with the world, or you feel some videos are past their prime. Here's how to make a private YouTube video.
Generally, the idea behind having a YouTube channel is to create content for others to see. Perhaps you have a plan of becoming a full time vlogger, and earning money through YouTube. Publishing videos in the hopes of receiving loads of views and gaining subscribers is usually the name of the game. Of course, you could be creating content just for the sheer joy of it too. Whichever camp you fall into, or any in between, you might not want all your content to be viewable all the time.
Why Private?
When does a private YouTube video come in handy? Well, the life of a content creator is often a very busy one. There's planning, filming, editing, and all sorts to keep on top of. So, having a raft of videos that are ready and waiting to be published can come in very handy. If you have some videos you've already made, there's no sense publishing them all at once. In order to stick to your content schedule, you might want to keep a few under wraps for a while.
Another solid reason for wanting to make a video private is that you may feel it no longer represents you. Perhaps you were a travel vlogger when you first started out, but now have focussed more on how to brew your own beer. Of course, you could leave your old content public – it's nice to see how a channel develops and grows. But, if you want a clean slate, that's perfectly understandable too!
Make a Private YouTube Video
Fortunately, making a private YouTube video is a super simple process, that will take mere moments out of your day.
Sign in to YouTube Studio.
From the left menu, select Content.
Point to the video you'd like to update. To see your live uploads, select the Live tab.
Click the down arrow under "Visibility" and choose Public, Private, or Unlisted.
Save.
This handy video outlines how to edit a video's settings, and will show you how to make a video private.
If you're uploading a fresh video and want to make it private from the beginning, this is even simpler.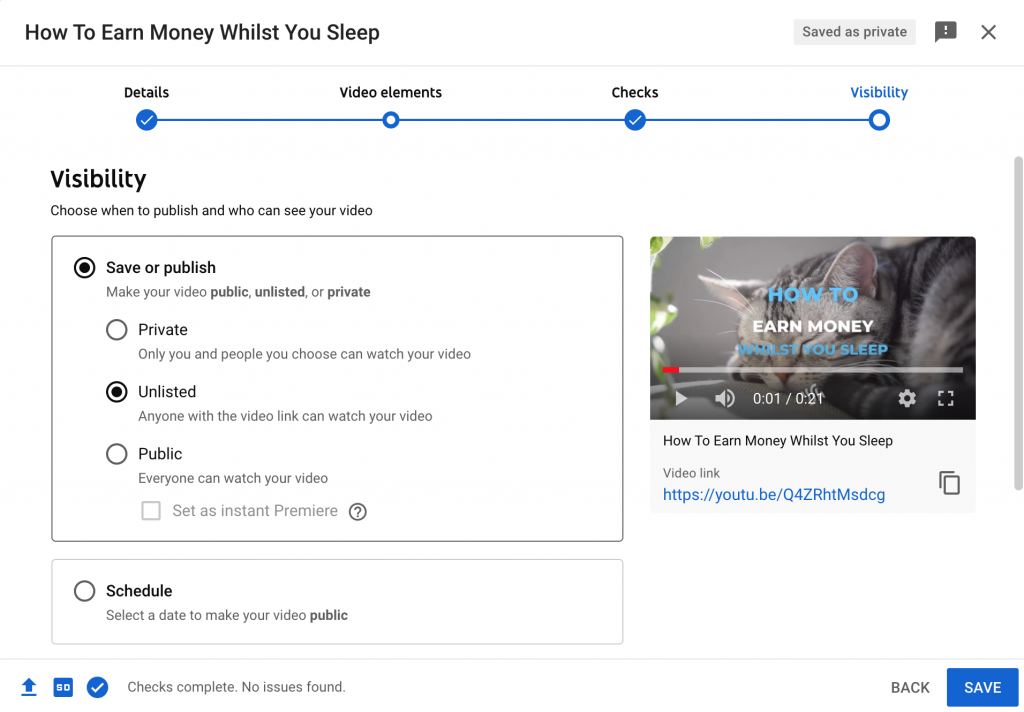 Just tick Private from the list of private, unlisted, or public when you come to the final stages of uploading your video.
---
If you're creating content for YouTube, check out Synchedin for all your video background audio needs. Browse a huge library of awesome royalty free music, and discover a world of fantastic sound effects (SFX).
Subscribe from just $3.99 per month for unlimited downloads, and make your video content the slickest around!