Magnetic Desk for Messy Gamers from Secretlab
Where are my messy gamers at? Secretlab have come up with a solution for untidy setups in the form of a magnetic desk. Find out more here!
Messy gamers might be a bit unfair. It can be difficult to keep on top of all the cables, and to keep a perfectly organised PC setup. You can start out with good intentions, running wires in a logical and methodical manner. But, the more gear you acquire, things can start to get a little out of control.
Fortunately, Secretlab are stepping in with a very slick looking answer to this issue. You may already be familiar with the company's super comfy gaming chairs, but their latest offering gives you something to pull your chair up to.
Magnus Metal Desk
The Magnus Metal Desk is a minimalist and sturdy desk, designed for a number of applications and able to support 100kg of weight. The simple black design is accented by a customisable colourful RBG lighting strip, which illuminates the back of the desk. By using magnetic accessories, you can neatly organise cables and wires with ease. A leatherette mat, which Secretlab have dubbed the MagPad desk mat, is also available to create a secure and slip-free workspace.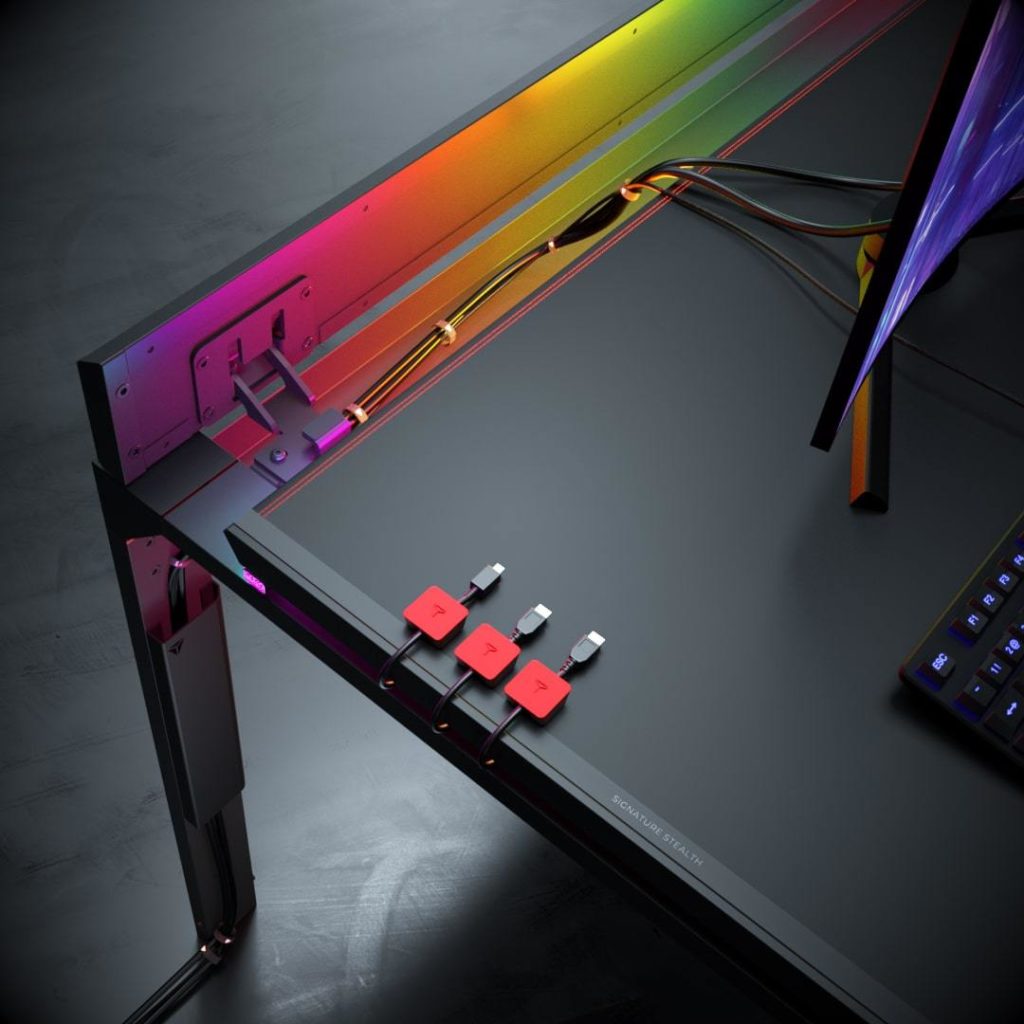 Specially designed sheaths attach to the leg of the magnetic desk in order to run cables tidily from the desk to power sources. There is also a storage solution in the form of a cable drawer towards the back of the desk.
Two size options are available, along with the ability to adjust height. A 59-inch length version is available at the moment, with a 47-inch model soon to follow. The desk is 29 inches tall, but can be raised by up to 0.8 inches, allowing you to create the optimum personal setup.
The price of the Magnus Metal Desk starts at $449, and will be available in the US, EU, and Singapore from its launch.
---
If you are a gamer who loves to stream, be sure to check out Synchedin! Get access to a huge library of awesome royalty free music, covering a variety of genres and moods. Play all tracks legally in the background of your streams for free.