The Rodecaster Pro II Is a Content Creator's Best Friend
Not just for podcasters, the new Rodecaster Pro II is the answer to every content creator's audio questions. Learn all about it here!
We featured the original Rodecaster Pro in our Christmas gifts for podcasters list. That's because it's a podcasting powerhouse, and any podcaster would've unwrapped it with sheer glee. The portable audio mixer console enabled creators to record multiple voices simultaneously, all whilst utilising on-board audio enhancement and processing features. Basically, you could capture professional-level podcast audio, without the need for a computer.
Now, Rode is giving us a new and improved version in the Rodecaster Pro II. The big news is that, not only is this mixer perfect for pods, it'll appeal to creators of all kinds – including recording musicians!
Sleek Design
A slimmer design than its predecessor means extra portability, so recording sessions aren't limited to purpose built spaces. The device features 6 physical faders, as opposed to 8. Plus, the body is a slightly sleeker 12″ wide, instead of 14″. What is big about this mixer are the updates on the inside.
New Software & Customisation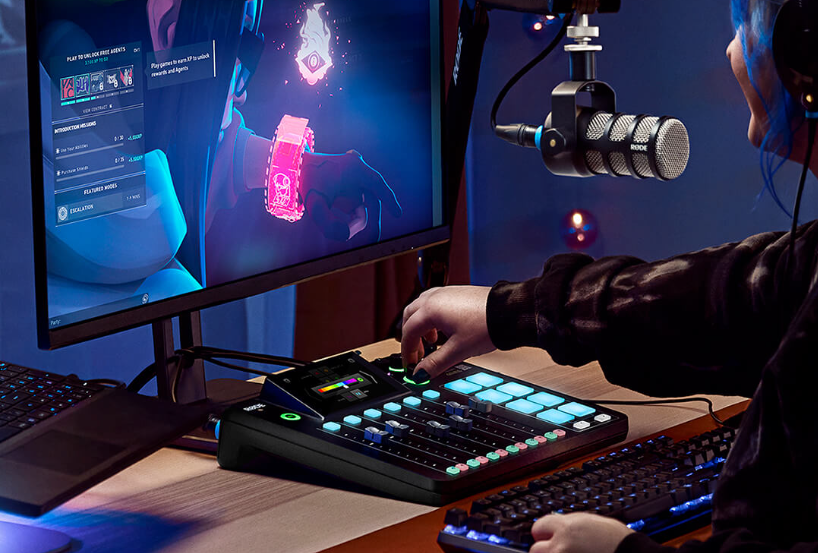 New preamps and new software features demonstrate this bit of kit's aim to integrate key parts of professional audio control rooms. The console is now powered by USB-C, and can be plugged into 2 computers or mobile devices at once, allowing for dual control. The touchscreen is slightly larger, though, making it easier to use. It also offers higher levels of customisation, ensuring it meets the needs of all creators.
A notable and very cool change is to the sound pads, which are now called SMART pads. On the original Rodecaster Pro, these pads would play audio clips on demand when hit. Now, they can be customised to trigger effects, MIDI commands, fades, video switching, and a lot of other things creators may find useful. Some audio effects are readily available too, including reverb, pitch shifting, and echo. There are also some playful vocal effects to inject added fun into productions.
Music Production Possibilities
Whilst 2 physical faders have been axed from the console, there are still 9 channels available. You can use 3 virtual faders to make up the difference.
Updating from standard XLR inputs on the back, the Rodecaster Pro II boasts XLR/¼" jack inputs, meaning creators can plug in mics, instruments, and line level devices with ease.
The preamp's lower noise floor, and higher gain than before, means that there's no need for external products like Cloudlifter. You won't need to mess around boosting the signal-to-noise ratio for your studio mics anymore!
Previously, audio effects like EQ and the compressor were limited. You could pretty much either switch the presets on or off. With the refined audio mixer, Rode has given artists much more freedom. Adjustable parameters are available, allowing for a more personalised recording and mixing approach.
Connectivity
The Rode Procaster II features Advanced Bluetooth® connectivity. So, you can control your production or show wirelessly, with your favourite Bluetooth headphones if you like. This works for both audio out and in.
According to Rode, this makes for higher quality phone call connection too. If you're a podcaster who likes to have guests phone in, the audio quality will be improved. It's worth bearing in mind, this applies to the connection between the phone and mixer, and not the cellular quality!
The new hardware has built-in WiFi and ethernet ports, making updating software a breeze.
You can get your hands on the Rodecaster Pro II for  $699 on pre-order. That's a $100 jump up from the original audio mixer, but for the added software capabilities, we'd say it's worth it. Rode plans to ship consoles to new owners around mid-June.