What Is a Cinewhoop Drone? | Cinematic FPVs
If you're an independent filmmaker, you need to get familiar with drones. Learn here what a cinewhoop drone is, and what it can do!
It used to be that if you wanted an aerial shot in your feature film, you had to fork out for a hefty crane, or even spend tens of thousands on a helicopter! For an indie filmmaker, this isn't really that feasible. Thanks to drones becoming more accessible and advanced, aerial footage has become a possibility to those with budgets big or small.
Just as there are loads of types of cameras and kit for filmmaking, there are various types of drones.
Regular Drone
The regular drones you're probably most familiar with come from companies like DJI. These tend to be larger, with more housing and weight, and carry an onboard camera.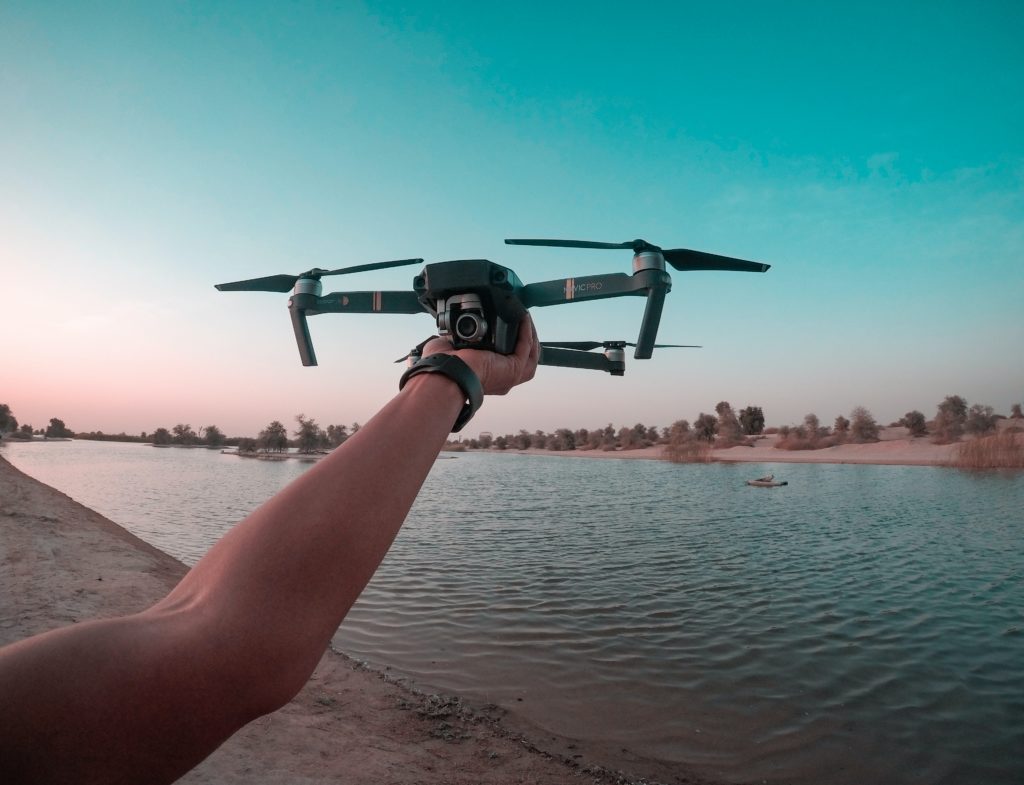 Regular drones like these are more popular with the mass market. This is largely because they are ready to fly right out of the box, and have much easier to learn controls. They also tend to boast a longer battery life, and be safer to fly.
FPV Drone
The main differences between regular and FPV drones are the size, speed, battery life, and DIY approach. The FPV community is made up of people savvy with a soldering iron, and comfortable tinkering with electronics.
These drones are much smaller, meaning they can reach much higher speeds and fit through tighter gaps. Because FPVs are largely custom-built by the pilot, there are less restrictions on the controls. Rather than being limited to purely vertical and horizontal movement, FPVs can tilt and flip, meaning they can capture amazing footage.
Because FPV drones are so small, they can struggle to carry decent cameras. It became common for FPV filmmakers to cut their GoPro Hero 10 cameras in half, taking the strain off the drone. That was until GoPro recently introduced its purpose built FPV camera, the Hero 10 Black Bones.
Cinewhoop Drone
You can get more specific when it comes to different kinds of drones. Typical FPV drones run on 5 inch propellers, and aren't completely stable or safe. The last thing you want to do when you've attached an expensive camera to your FPV is for it to crash into a tree and be lost forever.
Cinewhoop drones are relatively new, and designed specifically for the capture of smooth, stunning drone footage. The cutely named drones tend to have smaller 3 inch propellers, with a much lower power to weight ratio.
Whilst the cinewhoop is still comparatively speedy versus a DJI drone, it is slower and steadier than your average FPV. The result is crisp footage that can be shot in tricky spaces with more confidence and ease. Added ducts around the propellers are designed to give more efficiency and lift, plus make them safer to fly around people. This is a feature most FPV drones do not have.
Take a look at the video below by Magic FPV to learn about how the cinewhoop was developed.
---
If you want to create an awesome soundscape drone video like Magic FPV, sign up to Synchedin today.
Discover thousands of sound effects that'll elevate your drone footage, and give it that cinematic sheen!