5 Reasons to Get Your Music On Synchedin
Earning money by making music is the real dream, isn't it? That's just one reason to get your music on Synchedin. But, it's not the only reason!
Music might be your side hustle whilst you work a full time job or study, or you could be lucky enough to call it your career already. It doesn't matter what stage you're at, there are some things that can be seen as universal wins by everyone. A good few of these wins also happen to be very strong reasons why you should get your music on Synchedin. Let us break it down for you!
Earn a Passive Income
I know I said earning money by making music was the dream but, earning money whilst sitting down and eating biscuits really is (if we're being honest with ourselves). Well, once you've made the music, this is incredibly possible. Enabling creators to download your music from Synchedin, and use it in a project, equals passive income for you.
Better Rates Than Music Streaming
Having your music on streaming platforms like Spotify is all well and good, but we've all heard about the issues with the music streaming artist revenue model. There are many variables, but one stream on Spotify is worth a fraction of a fraction of a penny. With Synchedin, the way earnings work means one download is worth a whole lot more than one stream.
See Your Music Come To Life
When you get your music on Synchedin, you give it the opportunity to take on so many new forms. Watch it sit neatly within an indie film soundtrack, or witness it become the catchy hook on a new TV ad. Gifting your music to a world of content creators is a pretty great feeling. Your track could be the intro music for YouTube's next vlogging superstar.
Forge Creative Connections
At Synchedin, we're all about community. We love the idea of playing a part in linking up musicians and creators from all over the world. Having your music available on the Synchedin catalogue opens you up to the potential of getting approached for collaborative work of all natures. Always fancied composing and producing a video game OST? There could be a game designer out there looking for someone just like you.
Be Part of Something New
When Synchedin shoots into the royalty free music stratosphere, wouldn't you like to be able to say you were there at the beginning? Joining Synchedin at this relatively early stage means you are part of the foundation of something wonderful.
Due to our size, we're able to offer personal and thorough customer service and take the time to answer any questions or queries you might have. We love to make genuine connections with our contributors, which isn't necessarily something some bigger sites can offer.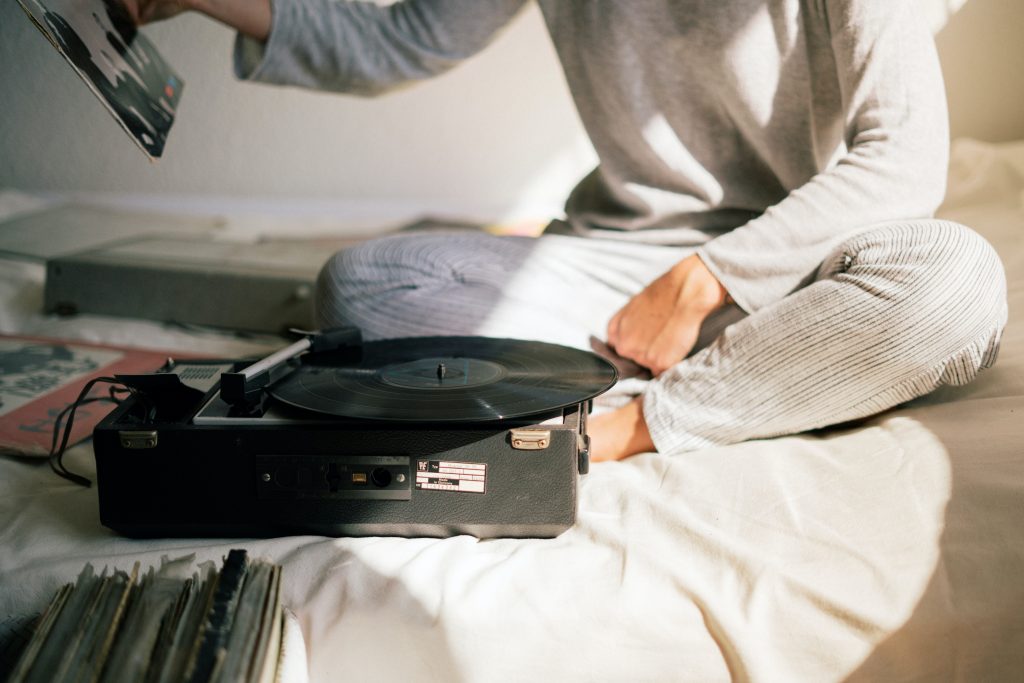 How to Get Your Music on Synchedin
You may have noticed that there isn't an option to upload your music onto the Sycnhedin site. That's because, for now, we operate on an "invite only" basis. However, we check out every artist that gets in touch enquiring to get their music included in the catalogue.
Firstly, all our royalty free music comes exclusively from our official parter and digital music distributor, RouteNote. So, before getting your music on Synchedin, you'll need to join RouteNote. It's a super simple process, and completely free! Plus, you keep a whopping 80% of all revenue generated by your music on streaming sites – keep 100% by choosing the premium service.
All music uploaded to RouteNote undergoes thorough moderation, so you know your quality music will be in good company.
Once your music is on RouteNote and live in stores, drop us a line at support@synchedin.com to let us know! We carefully check over and moderate all music before adding it to the site, but we take notice of every single artist who gets in touch.
---
So, if you fancy enjoying all of these glorious benefits, get started today. Distribute your music with RouteNote, then become part of the Synchedin family!