United We Are | Digital Charity Music Event
We are proud to be partnered with United We Are, a digital charity music event that is raising funds for Rainforest Alliance. The event takes place on 19th & 20th December – get the details here!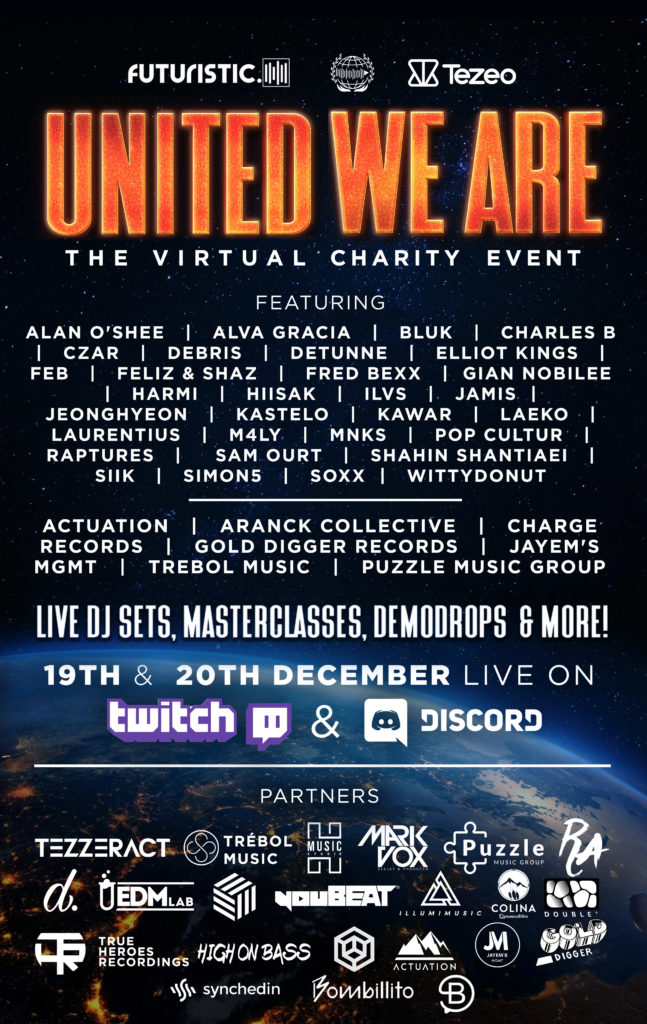 Run by the music producers community Futuristic, this massive digital charity event is dedicated to all electronic music artists around the world. Futuristic has worked tirelessly with 20 partners to build this two-day event up, so it is not to be missed! Catch all the action on the Futuristic discord server – 20 hours of demo drops, masterclasses and DJ sets, involving worldwide artists and labels!
Over the course of the event, you will have the opportunity to get in touch with the amazing artists on the line up. So this is a fantastic chance to get insider industry tips and inspiration. United We Are is also offering viewers the chance to win some awesome prizes provided by its partners. These include mixing and mastering services, graphic packages, promotions on Soundcloud & Spotify, consultations from experts in the music industry and much more! All it takes to be in with a chance to win these incredible prizes is donating to the event.
At Synchedin we share the belief of the importance of protecting the environment. Which is why we're so proud to be partnered with an event that is raising funds for Rainforest Alliance. The international non-profit organisation is working to build an alliance to protect forests, improve the livelihoods of farmers and forest communities, promote their human rights, and help them mitigate and adapt to the climate crisis. A definite worthy cause to get behind.
United We Are is a completely free event, with the only cost being optional donations. For information regarding the timetable and full list of available prizes, head to the discord server now!