Best Ring Lights for YouTube Videos
If you're a vlogger then you'll understand the importance of great lighting. We've made a list of the best ring lights for your YouTube videos!
There are millions upon millions of videos on platforms like YouTube and TikTok. Every uploader is clamouring for space and trying their hardest to catch the eyes of their potential audience. A huge factor to consider when aiming to stand out in the crowd is your lighting. Professional, well-lit videos often indicate the difference between a casual uploader and a committed vlogger. Sure, looks aren't everything, but first impressions definitely count. In a fast-paced, scrollable world, your thumbnail needs to grab people. And a dimly lit, shadowy image isn't going to cut it.
With the popularity of vlogging and TikTok videos, ring lights have become pretty accessible and commonplace. If you're unfamiliar with this bit of kit, the clue really is in the name. Ring lights are composed of a circle of LED lights, that throw consistent diffused light over the subject. They provide uninterrupted lighting regardless of the natural light already in the space. Diffused light, or soft light, is fantastic for vlogs and TikTok videos as it doesn't create harsh shadows and illuminates the space in full. You can grab giant ring lights on adjustable stands, or smaller ones designed specifically for use with mobile phones, the choice is yours!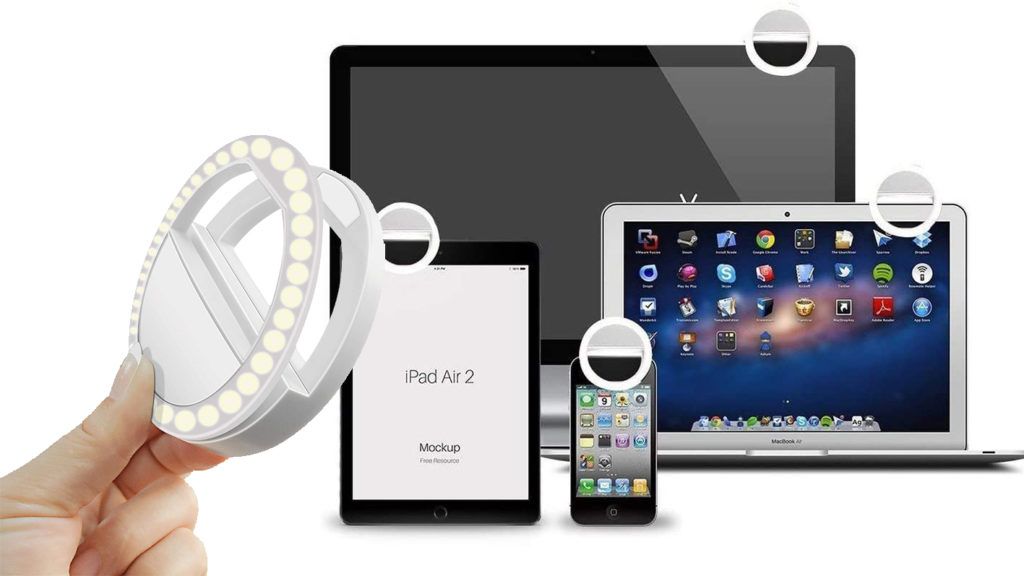 Xinbaohong Clip-On Selfie Light
This little light is ideal for vloggers on the move. Measuring in at just 85x28mm, and able to clip onto anything 18mm thick or less, it's the go-to choice for phones and laptops. Whether you need to take a quick selfie out and about, or you're filming on the road, this compact selfie ring light is the one for you!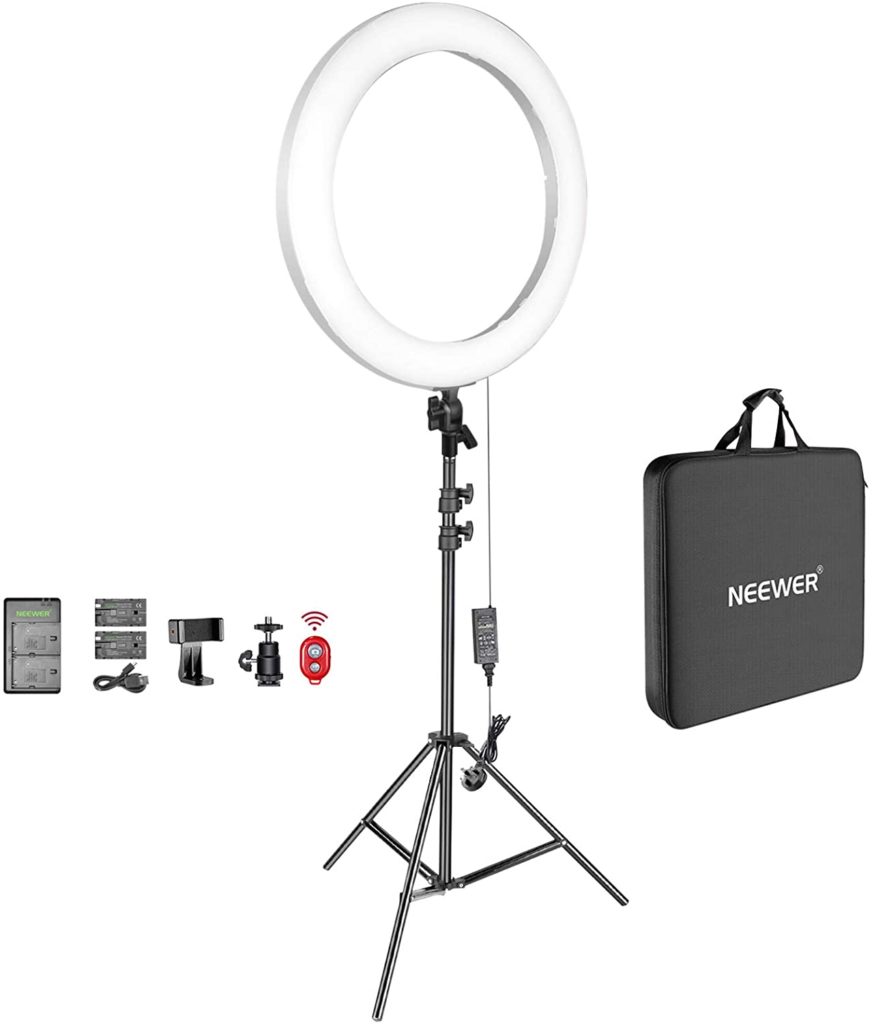 Neewer 20″ Dimmable Ring Light
This light is a big one. With bigger lights throwing out softer light, 20 inches in diameter makes this one perfect for YouTube videos. Due to the softer light, if makeup tutorials are your thing then this is the light for you. The Neewer 20″ is wonderfully versatile too, with the option of battery or mains power, so you aren't restricted to one spot. On top of this, you get a wireless remote and carry case, giving you absolute freedom whilst shooting.
Sunpack's 12″ Bicolour Ring Light Kit
This mid-sized light ring is great for vlogs and short form videos alike. Its combination of amber and white LED lights makes for fantastic heat-free lighting, perfect for close-ups. This light comes with an adjustable stand, phone holder and the ability to adjust the temperature and intensity of the light via the USB remote.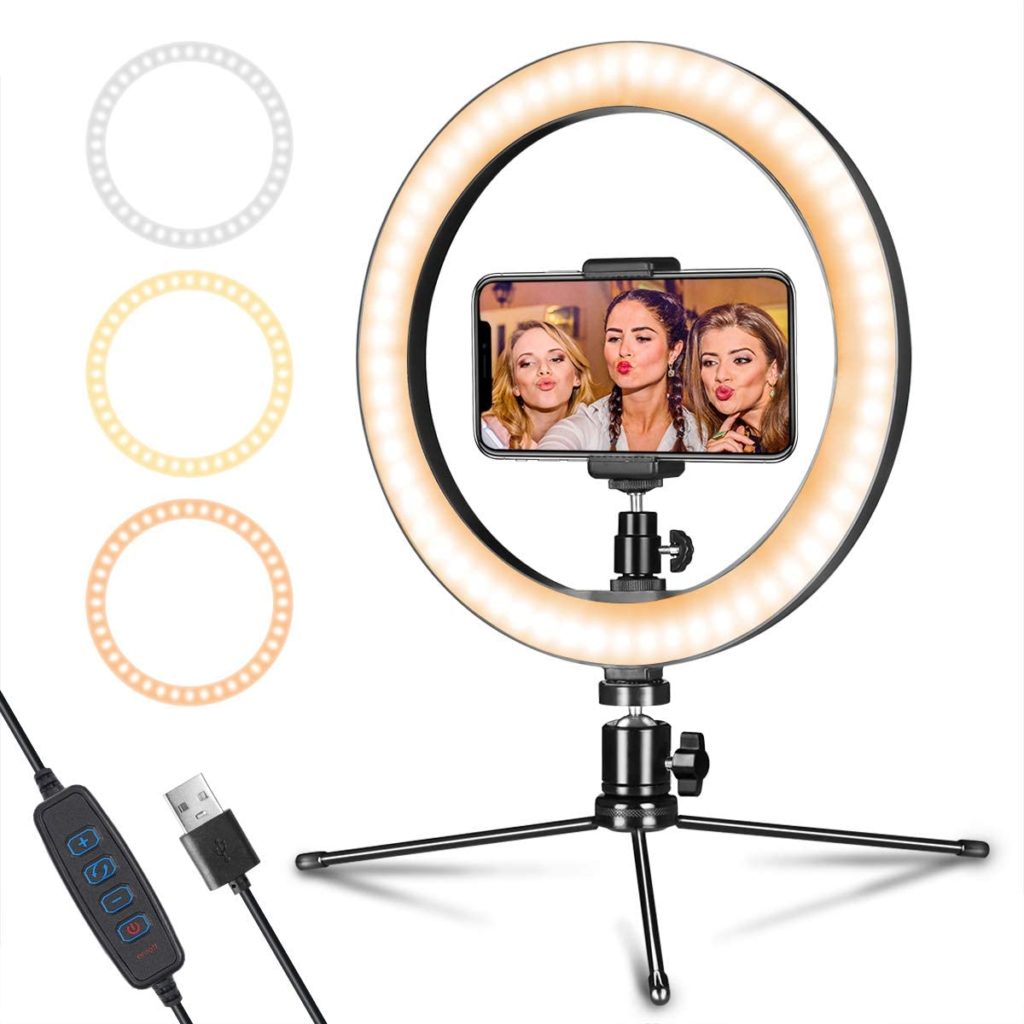 AIXPI 10″ Ring Light
This light is a brilliantly affordable option at $21.99 on Amazon and ideal for any tabletop filming. It features 10 brightness settings and 3 variations of warmth levels, enabling you to tweak your lighting accordingly. An accessible and easy to use piece of equipment, this is a strong choice for any newbie vloggers or those experimenting with lighting.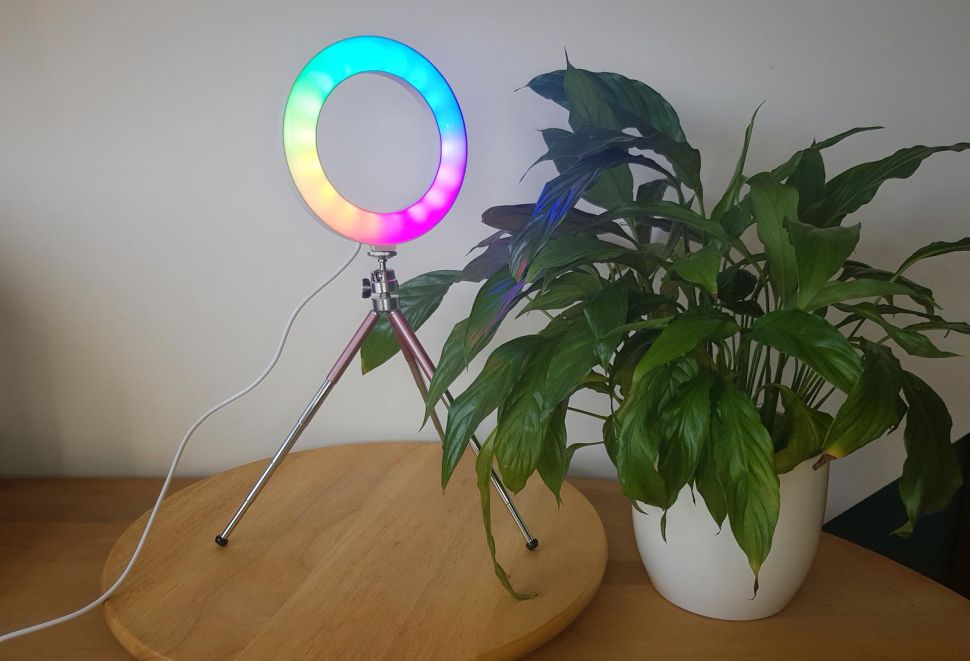 Smoovie LED Colour Stream Ring Light
If you're looking to inject a bit of extra fun into your videos, this is the best colourful LED ring light for you. Super affordable and portable, this light features 16 RGB colours and 3 white tones. It's USB powered, so great for use with laptops, and comes with a tripod stand, so it can sit nicely on your work surface.