Twitch Ads Incentive Programme Offers Reliable Income
Twitch is introducing a new way for its creators to receive a reliable income. Find out more about the Ads Incentive programme here!
Platforms are beginning to realise that the content creators they rely so heavily upon to propel their business are deserving of financial security. Last week, Instagram started testing paid subscriptions. Head of Instagram, Adam Mosseri said, "creators do what they do to make a living, and it's important that that is predictable. Subscriptions are one of the best ways to have a predictable income — a way that is not attached to how much reach you get on any given post, which is inevitably going to go up and down over time."
Now, Twitch is making its own move to secure the income of its creators. In an announcement on its blog yesterday, the streaming platform explained that it would be taking Ads Manager to the next level. Ads Manager is the ad scheduling feature used by thousands of creators.
What Is the Ads Incentive Programme?
The programme, at launch, is available to select creators and presents personalised offers. At the moment, those offers boil down to "stream for a specific number of hours — while running ads — in exchange for a flat payout."
The thinking behind this is to enable creators to earn a predictable monthly income through ads, without there being a cap on their earning potential. For ease of use, it has been built on top of Ads Manager. This means that once a creator has set up their ads schedule, they don't need to think about it anymore.
How Will It Work?
You're probably wondering who the "select creators" are that this programme will be available to. Twitch has said that incentive offers will be made to you if you're one of the select partners or affiliates. So, you'll need to become a Twitch partner or level up to an affiliate first.
If an offer is made to you, it will appear in your Ads Manager dashboard. Once you accept the offer, the ads rate will be set to the one detailed in the offer. You'll then just need to stream the minimum number of hours agreed over the month.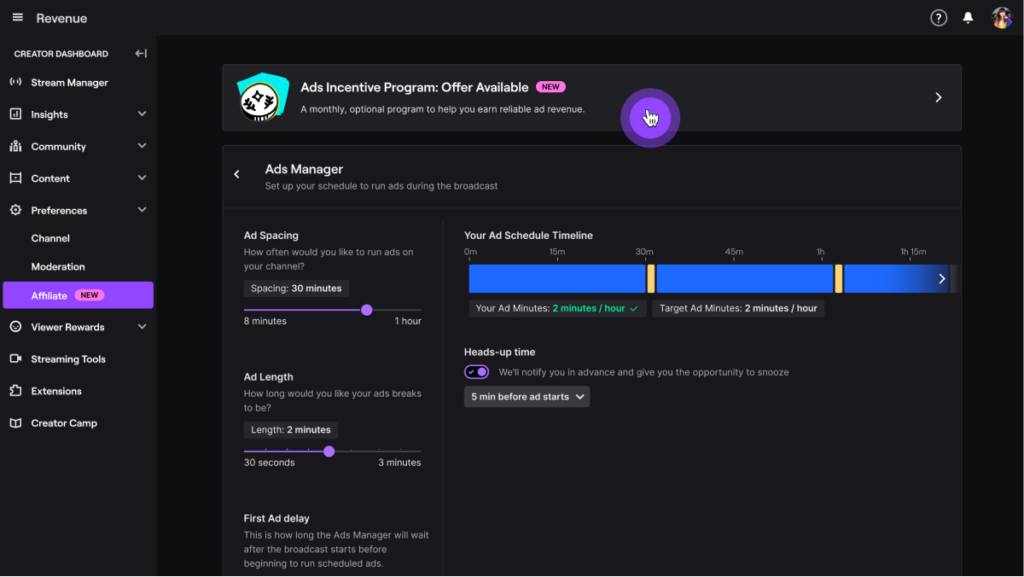 Different rates will be offered to you, corresponding with the amount of ads you agree to run in your streams.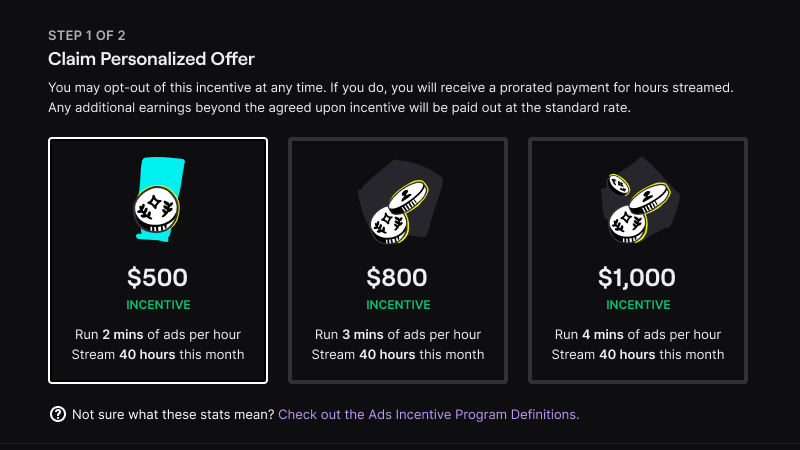 You will be able to track how far away from reaching your streaming goal you are in the Ads Manager dashboard.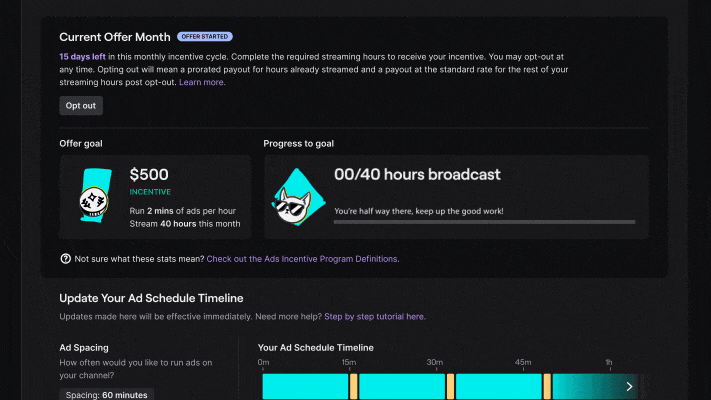 Once you have streamed for the agreed amount of time, your dashboard will let you know that your offer is completed.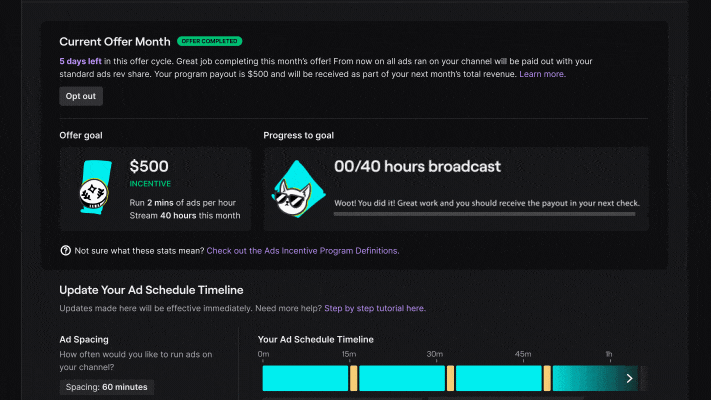 On top of the rate agreed in the offer, once complete you will still earn your usual ad rate for any additional hours streamed that month.
Why Is Twitch Doing This?
Twitch want to make the lives of creators easier and more predictable. The platform hopes to give creators a solid base of monthly earnings, as well as take the fuss out of setting ad timings. This is so creators can have more time to do what they do best – create.
"Having a reliable floor of ad revenue should enable you to better plan for the future, whatever that may look like. We hope it's an important step towards empowering creators."
This is just the beginning of the programme, and Twitch hopes to develop it further. Whether this means it will be offered to a wider selection of creators remains to be seen.