Filming a Craft Tutorial | Everything You Need to Know
Shou Sugi Ban or knitting, whatever your talent is, there's a good and bad way to show it off. Here's how to make a clear craft tutorial video and share your skills!
Maybe you want to sell classes on Skillshare, or generously give your knowledge away for free on YouTube. Regardless of whether people are paying for it, you'll want your video content to look professional. After all, it's not always about money or subscribers, reputation is an important factor too.
Creating craft tutorials to share online is a fantastic way to help grow your business. YouTube can be used as a free digital marketing tool, and help attract new customers. Equally, making a craft tutorial is a fun thing to do, and a great way to engage in an online community. No matter your motivation for filming a tutorial, there are some fundamentals to follow, that'll ensure a quality final product.
Camera Angles
You don't have to have a big budget or cinematic gear in order to film an interesting video with multiple angles. Even just two different angles creates enough variety to make a video engaging.
Not only are varying camera angles important for entertainment value, they also help massively when demonstrating a skill or process. If you're carving some fine detail into a lino block, an overhead shot gives broader insight, but close up shots go a long way in showing people how something should be done.
Lighting
There's no point showing off your crafting skills if you do it in the dark. Alongside written or verbal instructions, people love to learn visually. That's why they're looking for a craft tutorial video in the first place! So, your video needs to be well-lit, and visually appealing.
Opting for diffused light is a classic in tutorials, also known as soft lighting. This is because it is a soft but widely thrown light, that doesn't cast harsh shadows. Illuminating the entire workspace will help viewers to see what's going on more clearly.
Keep It Tidy
Craft tutorial, workout video, cooking demo, it all needs to be neat and tidy. Nobody wants to watch a tutorial video that's swamped with mess and clutter. Tidy desk, tidy mind, and all that. Learning a new skill often requires a more tranquil environment, to avoid overloading and frazzling people's brains.
If you're serious about creating craft tutorials regularly, it could be wise to think about a studio space. Even if this is just a corner of your living room, having clever organisation and a dedicated place for everything will help make filming easier for you, and watching more enjoyable for the audience.
Take It Slow
We've covered the technical stuff. Now, what about the actual content of the craft tutorial? Of course, some activities are only going to be doable for those who are more advanced in that particular craft. However, making it accessible to a beginner in how you deliver the tutorial is a great idea for increasing your audience.
For example, start off by introducing each item of equipment you're going to be using. For instance, a quick run down of each paint brush and your reasoning for using them, and an explanation of why you've gone for a certain paint type.
Don't rush through any stage of the tutorial because you think it's simple. Of course, you think it's easy – you're the pro here! Viewers on YouTube have the option to speed up the playback of a video if they wish, so don't be tempted to rush.
Use Examples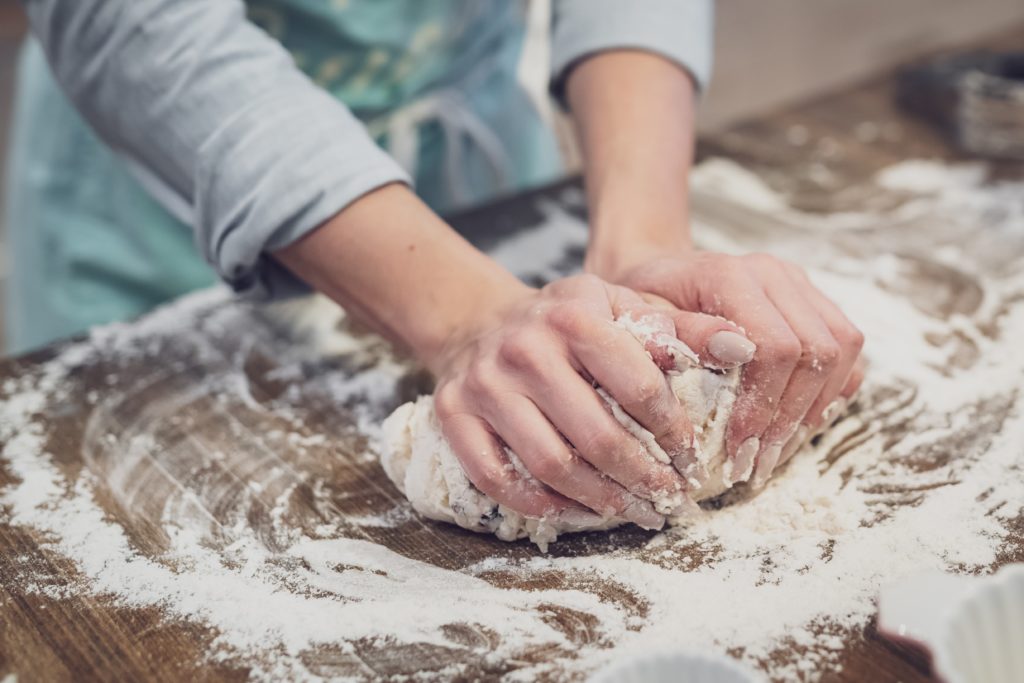 If you're unfamiliar with Blue Peter, you may not have heard the iconic phrase, "here's one I made earlier". Whenever demonstrating a craft of some kind, you need to show examples along the way. Not just of the final product, but of stages a long the way.
Giving reassurance to your audience that they're on track throughout the tutorial will definitely win you some brownie points.
Offer Alternatives
Not everyone will have the exact materials required for some craft activities, particularly if standard equipment is expensive. Many of us enjoy dipping our toes in arts and crafts, so catering for these people will help your tutorial excell.
Highlighting ways people can create something using more generic, household items makes your video much more accessible. Furthermore, you can offer alternative styles and finishes to a particular craft. For example, adding quick bonus information on how to use a different type of cake icing, or ways to decorate a cake allow for personalisation.