TikTok Rolls Out Effect House to All Users
After running a closed beta test, TikTok has made AR tools available to all its users. Learn more about Effect House right here!
Creating on TikTok means playing with lots of cool effects and filters. You can teleport yourself wherever you like by using green screen effects. Or, you could get weird and wonderful with the Time Warp effect. In order to ensure creative possibilities are always kept high, TikTok has now release a brand-new effects tool.
Effect House is a platform that lets anyone build community effects for TikTok. Since last autumn, the platform was in closed beta. During that time, TikTok has been working hard to figure out a way to let designers, artists, and creators enjoy a whole world of new effects. Now, Effect House is in open beta, with users invited to "imagine new frontiers for TikTok's effects universe".
How Does Effect House Work?
Since the early beta, over 450 creators have published effects on TikTok. These have then inspired the creation of more than 1.5 billion videos and garnering over 600 billion views globally.
In order to ensure a safe, authentic, and inclusive environment, TikTok has outlined some Effect Guidelines. This is in addition to the Community Guidelines, and are designed to enable creators to feel welcome and be exactly who they are comfortably. Effects promoting colourism or presenting negative stereotypes are not allowed. Neither are effects showing cosmetic surgery such as lip fillers or any effects that encourage the scrutiny of someone's appearance.
TikTok has plenty of guides on getting started when it comes to creating augmented reality effects in Effect House. "You can combine different assets and interactions to build virtual elements that are applied onto a user's face, body, and environment."
You can either start from scratch, or use one of the many available templates to create your effect. Once you open the interface, you'll see the Hierarchy panel on the left-hand side. This shows the objects you've added to the effect and the layers of objects in the scene.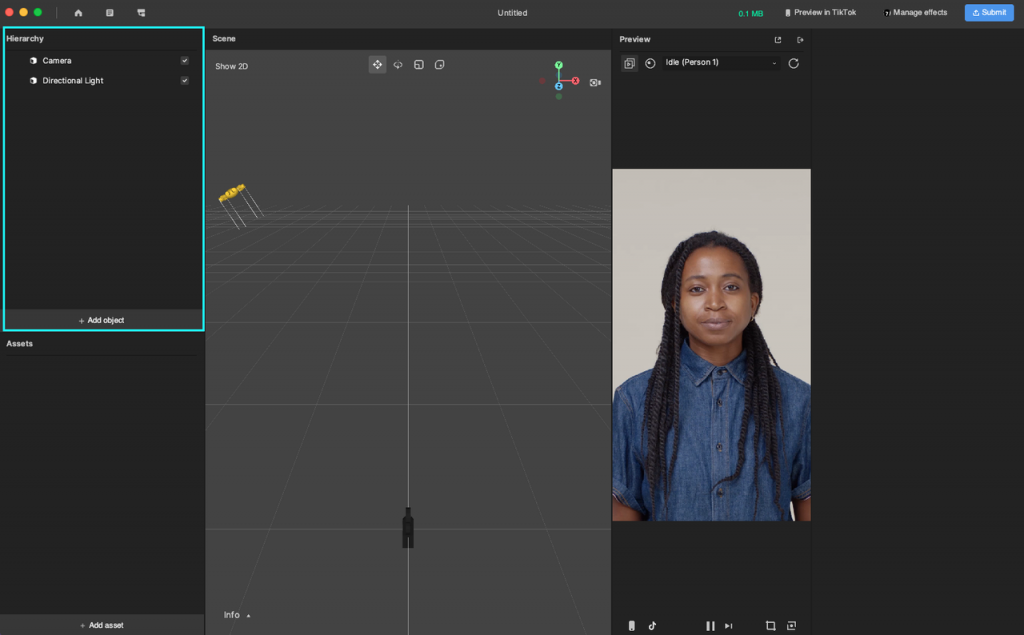 Below the Hierarchy panel is the Assets panel. This is the library for all your imported assets. You can simply drag assets into the panel or click + Add asset and select Import to add specific assets like Texture Sequence and 3D face binding mesh.
There is an array of possibilities in terms of effect creation using this interface. TikTok has provided guides on how to create both 2D and 3D effects. You can also learn how to make animation effects, face effects, as well as adding texture and shadow.
Why not make your TikTok content totally bespoke, and have a go at creating your own augmented reality effects on Effect House?