Become a Synchedin Contributor | What Does it Take?
With the launch of our sound effects platform, and images and videos in the pipeline, find out what it takes to become a contributor and upload your assets to Synchedin!
If you're a creative type who enjoys making sound effects you could be invaluable to other creators. SFX and Foley can really make a project, whether it be a feature length film or YouTube video. However, not everyone has the time or resources to create their own SFX. This is where you come in!
Synchedin is now offering both royalty free and creative commons SFX for users to download and use alongside their various projects. We have kicked things off with a batch of great SFX, but we want to give you the chance to share yours with the world. We're all about community and sharing here, so why not become a contributor? Here's what is needed to do just that.
Becoming a Synchedin contributor is super straightforward and only requires a few quick details. Once you have signed up to the site, you can head to the Contributors Apply Page under the Account tab. All we need from you is a link to your portfolio of assets.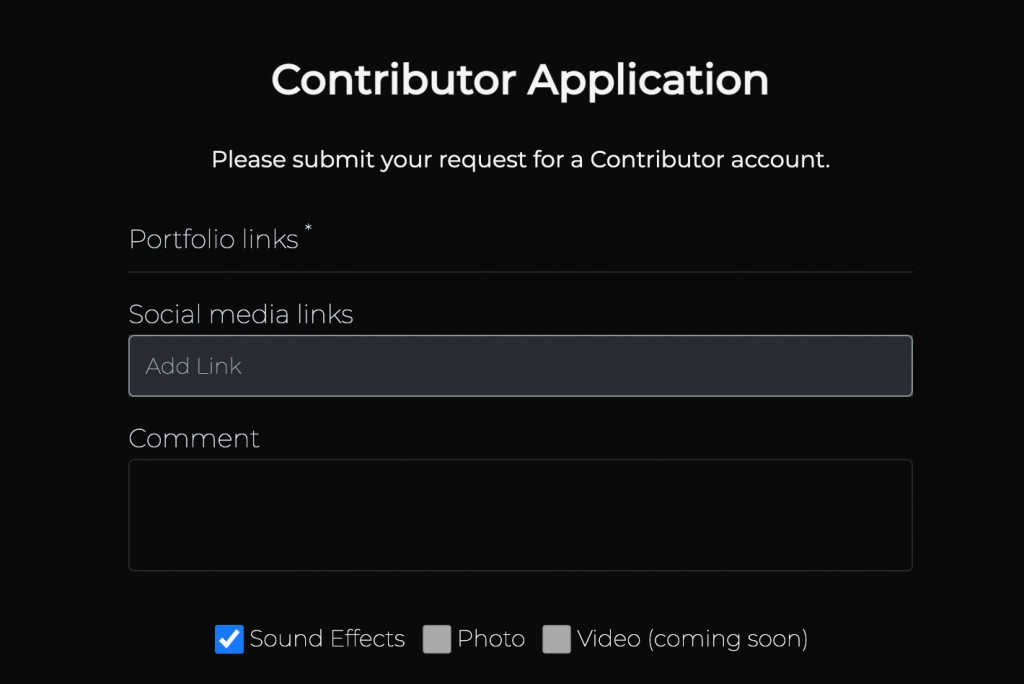 At the moment, you can contribute sound effects and images, but we will be looking for amazing videos soon as well!
Your portfolio might simply be a link to your SFX on SoundCloud, for example. If you have social media accounts dedicated to your work, we would love to see these as well. It's always cool to know where contributions are coming from. However, if you don't have any social media accounts, or if you just want to support your application, leave a comment. If we need anything further from you, we will get in touch with a quick email. And it's that simple! Once you've sent your application request, we aim to respond within 24 – 72 hours.