How to Become an Image Contributor on Synchedin
Do you love photography? How does earning money for your photographs without lifting a finger sound? Here's how to become an image contributor on Synchedin!
As a creative and artist, it's a sad truth that earning a liveable income can be a challenge. You often need to have multiple avenues of making money on the go at once. Unfortunately, creative endeavours tend to be quite time-hungry. This means that finding a way of earning money without devoting any more of your precious time to it is a bit of a holy grail.
Making some of your photographs available as stock photos is one of those dreamy earning situations. Stock photos are widely used, perhaps even more than you already think. They're perfect for brightening up marketing campaigns, decorating websites, adding to YouTube videos, and so much more. There are lots of stock photos out there, but there are always gaps. Who knows – if you take your own beautiful stock photos, you could be filling one of those gaps for somebody.
In order to share your photos with the world, simply sign up to Synchedin and become an image contributor.
How to Become a Contributor
The process of becoming an image contributor couldn't be more straightforward. In fact, it isn't limited just to images. We recognise that many creative types are multi-talented. So if you happen to be a photography loving Foley artist, you could upload some of your sound effects too!
If you haven't already, you'll need to register an account with Synchedin. Just fill out some personal details like your name, email address and password, and you're sorted. If you have a referral code, now is the time to add it and get a tidy discount on any subscriptions you fancy too.
Once you've signed in, head to Account in the top right corner and hover over it. Then, click on Contributor Apply Page.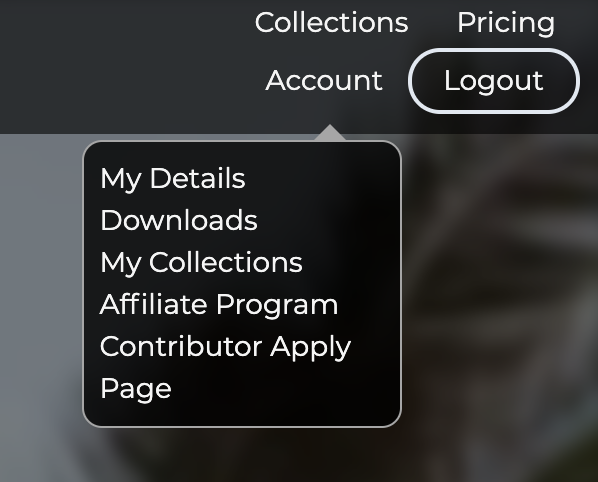 Once clicked, you will be led to the contributor apply page, where you will need to fill in some information. This includes any links to your portfolio, and any relevant social media accounts. If you don't have any social media accounts linked to your photography, don't panic! You can add comments to support your application, which will be reviewed by some helpful humans.
Here, you can also tick whichever assets you intend to contribute (sound effects or photo). If you select just one, but become a Foley fanatic down the line, just get in touch with support@synchedin.com to amend your contributor details.
You can also brighten up your profile and let us know a little about you by adding a profile photo, banner and bio!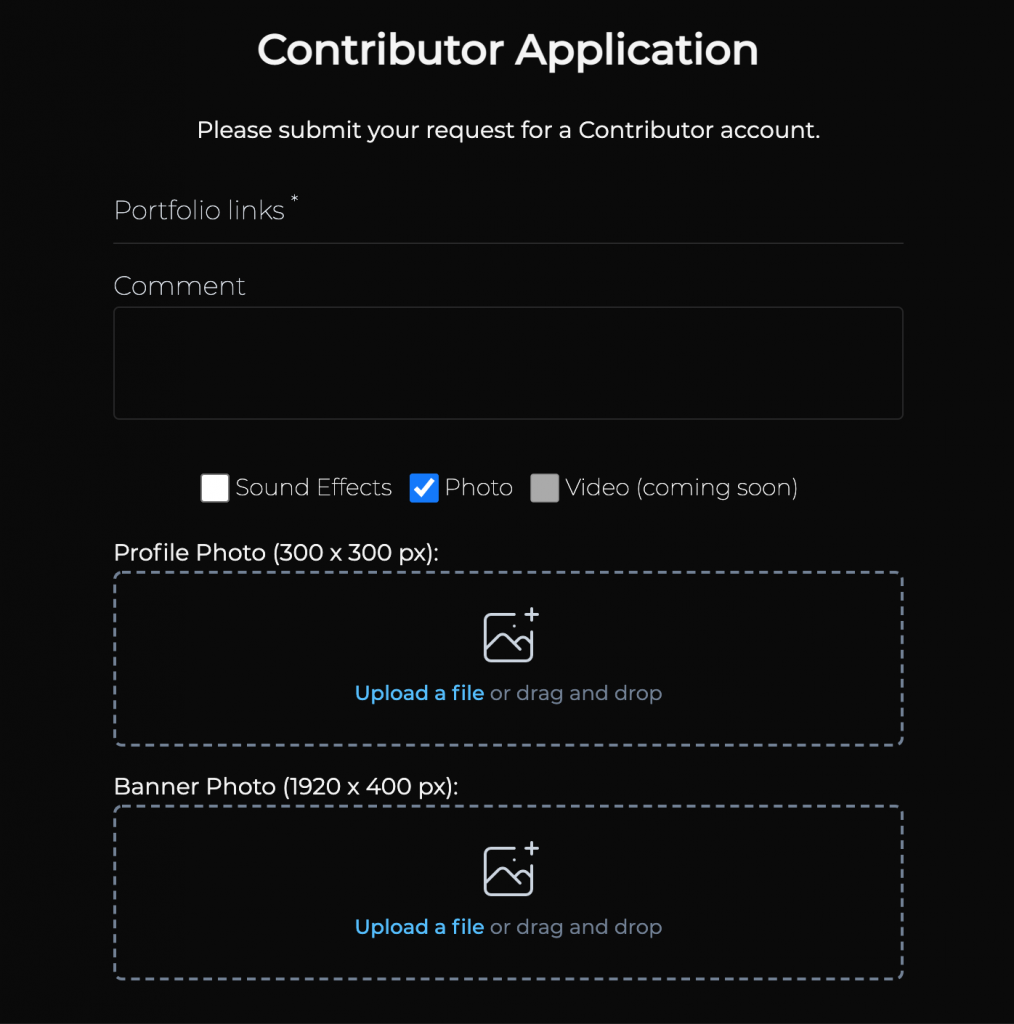 Once you've filled out all the required info, have a read of the contributor's license agreement. If you'e happy with this, let us know you've read and agree with it, then hit Request Contributor Account.
We aim to review all requests within 24 hours, so won't have to wait long before you can start uploading.
How Does Earning Work for an Image Contributor?
It's up to you to decide whether you make your images available under a royalty free license, or creative commons. All creative commons images will be available for any Synchedin users to download, whether they pay for a subscription or not.
Royalty free assets are only available with a paid subscription, which means more earnings are generated via royalty free images. For every download of your image, you will receive 50% of all the revenue generated. So, by making your assets royalty free, you're essential giving them a higher price, although the pool of potential downloaders is smaller.
That's not to say you won't earn anything under the creative commons license. You will still receive a share of the revenue generated from these, but due to the lack of subscription, the initial revenue will be less than that of royalty free.
Once you've uploaded your assets, you can just sit back, relax, and wait for the passive income to roll in! Sign up today to start your life as a Synchedin image contributor!