5 Best Free Photo Editing Software on Mac
If you're new to photography, you won't want to invest loads in software yet. We've listed the best free photo editing software on Mac for you!
There are plenty of photo editing software to choose from out there. It can lead to a slight case of option paralysis. However, the search field is narrowed if you have certain limitations. If these limitations include your budget and the fact you're working with a Mac, then you're in luck!
We've made life easier, by compiling a list of free photo editing software on Mac, that will enable you to perfect your images without spending big.
Apple Photos
If you're uploading photos to your Mac and don't fancy downloading any more apps or heading back and forth to sites, Apple Photos is a great shout. This app comes with Mac, meaning it is genuinely completely free to use. It boasts tools that are simple to use, and allow for decent enough photo enhancement. If you're looking to quickly adjust the light and colour of images, you can do so directly from opening the photo and hitting edit.
As a free app, though, it is to be expected that there are limitations. The tools are not as advanced as most paid for software. If you were hoping for complex and creative editing, this may not be the app for you. However, as a true freebie, what could be a better free photo editing software on Mac than the one that actually comes with your Mac?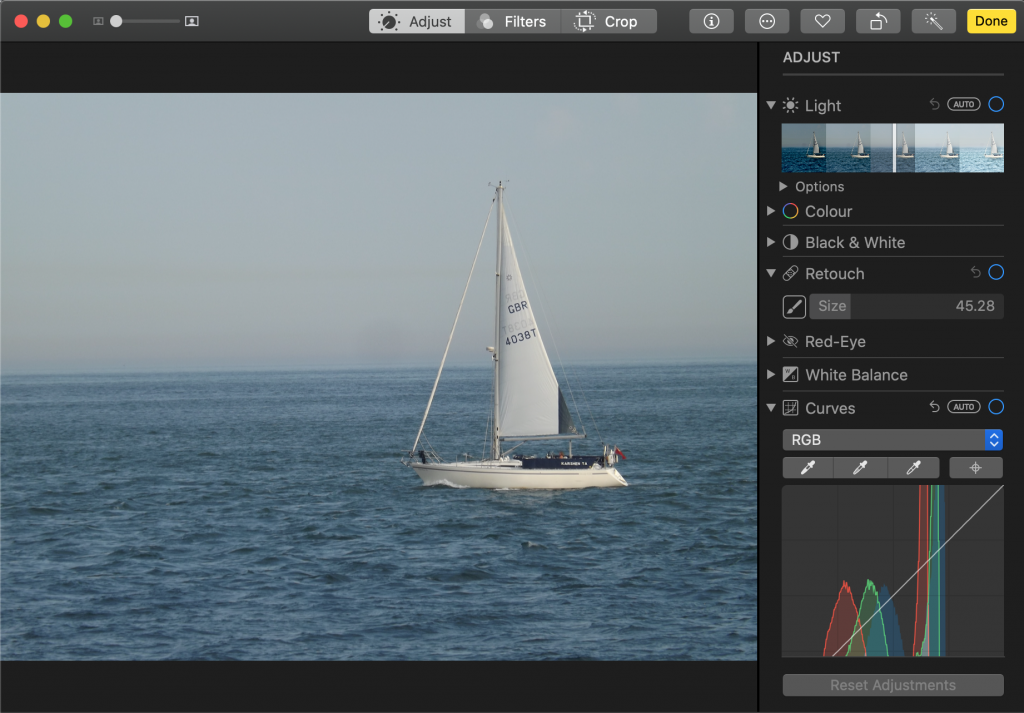 GIMP
A great free photo editing software, GIMP can be used on Mac, Windows and Linux. GIMP (GNU Image Manipulation Platform) is an open-source software, that has long been a contender for the best free photo editing software. Having been around since 1996, it's had a long time to be perfected and improved. This means it offers some seriously high level, powerful editing tools for a free platform.
In terms of aesthetics, it isn't the most slick. However, if you're willing to overlook this and the occasional sluggish response, you will be rewarded. GIMP shares similar editing tools with Photoshop Elements, an expensive rival software. You can find plenty of precise selection tools, transformation tools, and even some animation effects.
Pixelmator
Offering a 30-day free trial, you have plenty of time to assess Pixelmator's editing capabilities before committing to a subscription. Pixelmator was developed for Mac specifically, and is a graphics editor as well as a photo editor. This means it offers fantastic layer-based editing options, like Photoshop, so it's perfect for graphic design.
Pixelmator offers a range of selection tools, allowing for finer photo editing. It also has cool features such as the machine-learning-enabled colour match tool. The interface is sleek and customisable, meaning it isn't too overwhelming for new users.
Once the free trial has ended, you can get the Pixelmator app for £28.99 on the app store.
Affinity Photo
Another free trial, Affinity Photo is a professional level photo editing software available on Mac. It offers all the key features you'd look for in an advanced editor: masks, filters, PSD import and export, focus merge, and so much more. It also offers a number of fun effects, making more creative and experimental photo editing a possibility.
With a huge toolkit on offer, it's understandable that there is a relatively steep learning curve when it comes to using Affinity. However, if you're looking to advance your editing abilities, making the most of this free trial is the perfect way to do just that. If you fall in love with the software, you can purchase it from Serif for £48.99.
Luminar
Last but not least, we have Luminar. Developed by Skylum and available for both Mac and Windows, Luminar functions as a standalone app, or a plugin to be used with Adobe or Apple apps. It offers over 60 effects that can be used with minimal fuss, as well as professional grade editing. This includes layering, cloning, transformation tools, plus a wide range of brushes.
The use of artificial intelligence to make quick yet sophisticated enhancements makes it an exciting software for photo editors. It has the ability to analyse images and decide which effects to apply in order to improve areas of the image without touching others. Another big plus is that it supports the Touch Bar on the latest MacBook Pro, making editing smoother and more enjoyable.
---
If you fancy taking your own stock photos and editing them using one of the above software, check out Synchedin!
Simply become a contributor in order to upload and share your images with a world of creators. Provide beautiful images to be used in video, commercials, on websites and more, all whilst earning a passive income.
Sign up today, and get your photography out there!