Best Waterproof Bluetooth Speakers for Summer 2021
Take the sounds of summer with you! Whether you're off camping or chilling poolside, here are the best waterproof Bluetooth speakers to soundtrack your fun!
Loving music, but loving being outdoors doesn't have to mean making a choice. Do you sacrifice time in the sun, or forego your favourite tunes for a while? Sure, you can get portable speakers that look and sound great, but can they withstand your adventures? If you're going into the wild, chances are you're going to run into plenty of dust and a few bodies of water. Equally, if you're jetting off to a resort, you're most likely going to be in proximity to a pool.
Traditionally, water and electronics aren't the best of friends. But, this is 2021. You can now treat quality sounding, portable speakers as robustly as you would a pencil case. Of course, not all Bluetooth speakers are durable and waterproof. This is why we've compiled a list of the best waterproof Bluetooth speakers you can get your hands on.
All with at least an IPX7 waterproof rating, these speakers can tolerate bumps, drops, splashes, dips, dust and showers. Check out which speaker will be supplying the summer bangers for you this summer!
Sonos Roam
Smaller than its older sibling, the Move, the Sonos Roam is an impressive indoor and outdoor portable speaker. Since being announced in March, it has quickly become one of this year's most beloved portable speakers. With both Bluetooth and Wi-Fi connectivity, it can travel with you or become part of your multi-room Sonos system at home.
An IP67 dust and water resistance rating means dry, muddy hikes and splashes next to the lake are not a problem. Don't let the size of this one fool you. Although small and highly transportable, the Sonos Roam boasts a nice, heavy bass. Automatic Trueplay means that you will get the optimum sound available for whatever space you're in.
You can make the Sonos Roam your next travel companion for around $169.
Ultimate Ears Wonderboom 2
The UE Wonderboom 2 is a miniature speaker that packs a lot of punch. This compact bit of tech features a decent 13-hour battery life, meaning it will survive those longer outdoor sessions. The small design and nifty attached loop means the Wonderboom 2 is the ideal backpack addition. The IP67 rating means it is ready and raring to go whenever you are.
In terms of audio, the sound delivered by this waterproof speaker is detailed and intricate. But, the extra bass injection gives it a heft you wouldn't expect from such a petite package. All this for a price of around the $100 mark is difficult to argue with.
Tribit XSound Go
If you're planning a long camping trip away from electricity, the Tribit XSound Go is the waterproof Bluetooth speaker for you. With a whopping 24 hours of battery life, the music doesn't have to stop all weekend. At an incredibly low price of around $30, you may think this speaker is missing a bunch of desired features. But, you'd be wrong.
The speaker is well-balanced, and the highs suffer from minimal distortion when played at full volume. It can also happily fill a medium-sized room at full volume, and even at medium volume it can manage a good 20 hours. Its IPX7 rating means dirt, sand and splashes aren't an issue. Perhaps not the most aesthetically groundbreaking speaker, this budget option is sure to not let you down.
JBL Flip 5
Although there is an absence of some features, this doesn't prevent the JBL Flip 5 from being one of the best waterproof Bluetooth speakers you can get for summer 2021. If you feel that you can survive without hands-free calling and voice assistance, this speaker will still be a great companion.
It has a rating of IPX7, giving it durability and good resistance from the elements. The mega battery life of 20 hours makes it a real audio pack horse. The sound on this simple speaker really rivals some of the best, making up for some of the missing extras.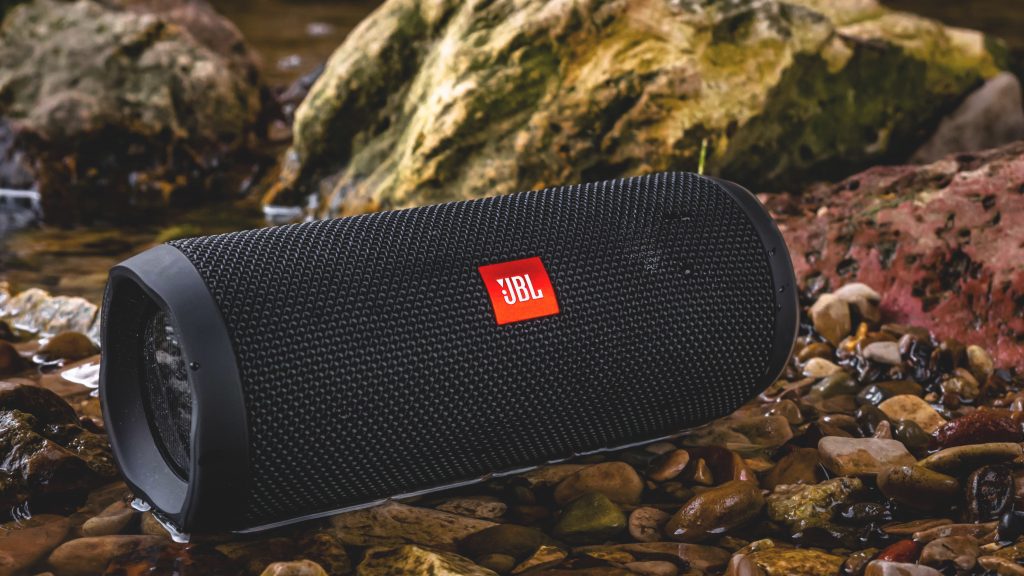 Ultimate Ears Megablast
An upgrade from the Blast, the UE Megablast is a slightly large portable speaker. But, with size comes bigger volume. With plenty of features, such as Amazon's Alexa assistance as standard, this speaker is a great addition to the home as well as outdoors.
20 hours of battery life means you can enjoy rich bass, clear high volume, and outdoor durability for longer. This portable speaker is on the pricier side at around $200, but for the quality of audio and amount of features, it's easily worth it.