Unlisted YouTube Videos | What Are They?
YouTube is full of all sorts of videos; tutorials, food, cats. There's also public, private and unlisted. But, what are unlisted YouTube videos? We've got the answer for you here!
So, you've begun your adventure as a YouTube content creator. Maybe you've got some exciting extreme sports action to share, or perhaps your channel is a deep dive into the world of cryptocurrency. Whatever your chosen area, the aim of the game on YouTube is usually the same: grow your channel to either spread a message or earn money. Or both.
In order to grow your channel and gain subscribers, there are a number of tactics you can employ. Increase views by creating a scroll-stopping thumbnail, or utilise YouTube cards to keep viewers on your channel for longer. But, what happens when you're just getting your first lot of content together? Putting the feelers out to some trusted friends and family is a solid way to get a handy critique on your initial content. If you don't necessarily want just anybody to be able to view your videos at first, this is where unlisted YouTube videos come in.
What Are Unlisted YouTube Videos?
An unlisted YouTube video is a published video which can only be viewed by those who have received a direct link. Unlisted videos won't appear in the Videos tab of your channel page, so nobody can accidentally stumbe upon them.
People who are able to view the unlisted video can still leave comments on it. This is super useful if you're sharing the video link with a view to gaining to helpful feedback as a newbie content creator.
How to Create an Unlisted Video
Making a video unlisted on YouTube is a really simple process.
If you're uploading a fresh new video, you can tick the Unlisted box when you reach the Visibility options stage.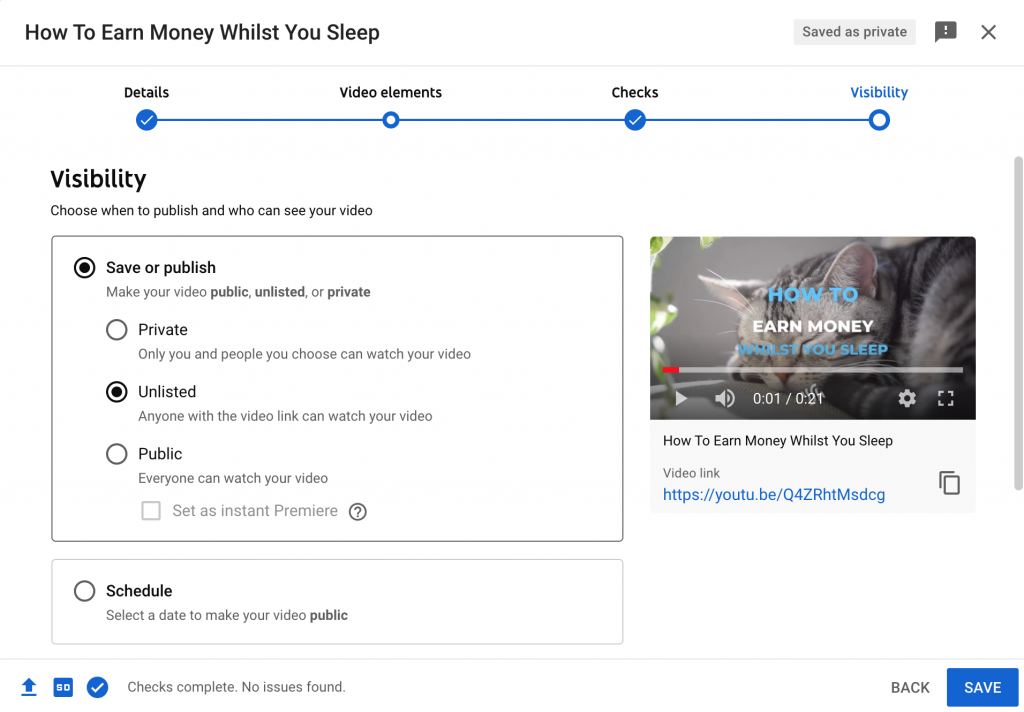 If you'd like to change a videos privacy settings to unlisted, just follow these easy steps.
Sign into your YouTube Account.
Go to your My Videos page.
Choose the video which you'd like to make unlisted. Hit the Edit button to access the video's settings.
Head to the Privacy section of the page. There you'll see the option to mark your video as "unlisted", "public", or "private". Select unlisted.
Save Changes. And there you have it!