Facebook is Adding Podcasts to Pages from Tomorrow
From tomorrow, it will be even easier to share your podcasts on social media. Facebook is adding podcasts to Pages – get the full details here!
If you've put in the hours learning about how to create a brilliant podcast, understandably, you will want to share it with as many people as possible. Well, now Facebook wants to help with that.
The social media giant will be enabling users to discover and listen to podcasts directly via the app from tomorrow (22nd June). Podcast page owners were notified in an email from Facebook about the update. Podcasters can simply add their RSS feed, and automatic News Feed updates will be made for any new episodes moving forward.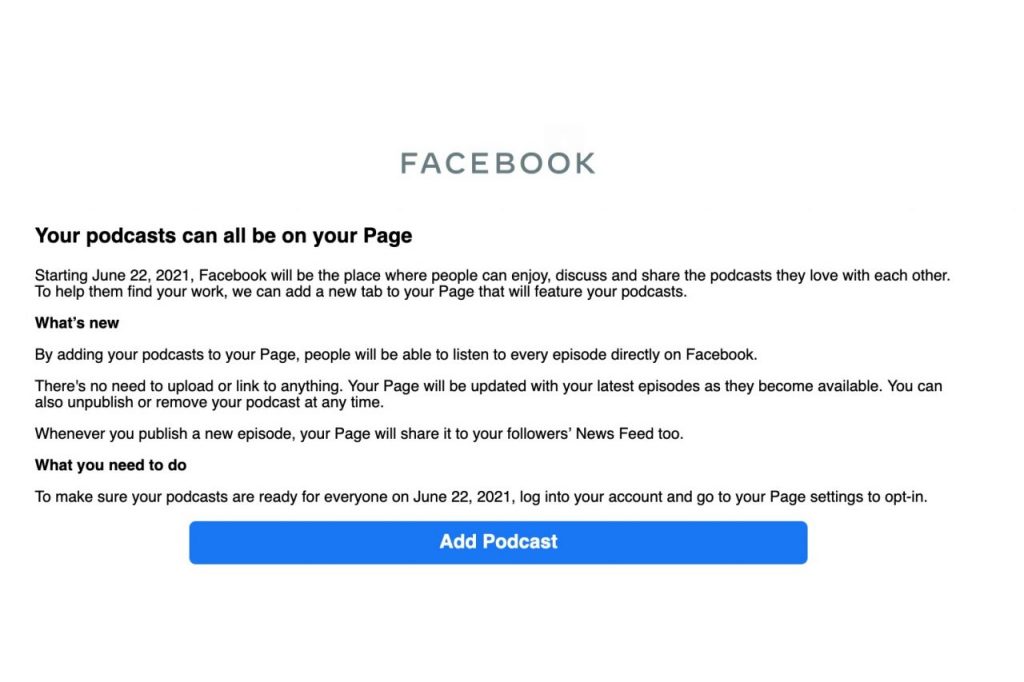 All podcasts will be visible in the "Podcasts" tab on pages. This is yet to display, but will presumably become available from tomorrow. Another feature includes the option for creators to make clips from their podcasts. Jumping on the short-form popularity train, this can help boost visibility and engagement.
Anyone who received the email from Facebook, having been deemed a podcast page, can choose to opt in via their account's Page settings. Also, creators will need to accept the podcast terms & conditions.
So, what are the benefits? As a creator, you'll save precious time as you won't need to manually add links or upload anything. Also, you'll have the opportunity to capture your Facebook audience in a different way. As a listener, being able to access everything to do with your favourite podcasts in one place makes life just that bit easier.
Facebook adding podcasts comes as a push to move further into the realms of audio. Last week, Mark Zuckerberg hosted the first Live Audio Room in the US.
---
If you're a podcaster who needs great music and sound effects, look no further! Synchedin offers a huge library of awesome royalty free music, and a whole host of royalty free and CC0 SFX.
Sign up today, and discover the perfect audio to suit all your podcasting needs.