Royalty Free Music | The Creator's Ultimate Guide
Being a content creator means spinning a lot of plates, one of them being music. Royalty free music, stock music, whatever you call it – we have your ultimate guide!
Content creators, we salute you. You are always there for us when we need to be entertained, educated, comforted and amazed. Since the Covid-19 pandemic swept the globe, more of us have woken up to the enormous importance of the arts and creative sectors. Without engaging podcasts or enjoyable YouTube videos, where would we be?
We agree that all art forms are powerful, be it video, image, or words. But, we believe that music possesses a special ability to elevate its fellow creative media. Adding music to film is hugely important for a number of reasons, like setting the tone or evoking emotions. Similarly, intro music for podcasts or vlogs can help convey the genre or improve how memorable content is.
Whether you produce films or design video games, we know that you work tirelessly to bring your ideas to fruition. The more time spent on your passion, the happier you are, right?
That's why we wanted to say thanks for all you do, by creating a clear and comprehensive guide to royalty free music. The idea is to leave you feeling confident and comfortable adding music to your projects, saving you precious time to do what you do best.
What Is Royalty Free Music?
The world of music is vast, with countless styles and genres, moods and feels. It's fair to think that there's enough to think about when it comes to choosing music. But, once you've decided on that side of things, you sadly can't just plump for the most popular track or artist that fits the bill.
The temptation to just use your favourite track by a chart topping artist is going to be strong. But, it's important to resist the urge. If you wanted to use these tracks, you would have to obtain the appropriate licenses, as you would not own the copyright.
Sadly, using music that you don't have the appropriates rights to can lead to some copyright issues down the line. You can receive DMCA strikes if you use copyrighted music in a Twitch stream, for instance. And if you want to license a famous track, chances are you're going to be a bit stunned by the cost.
Royalty free music, sometimes known as stock music, is music under a type of music license. It essentially means "free of royalty", and can be used without you having to pay royalties to the rights holder every time the track is used.
As the content creator, generally, you pay a one time fee for the music, and then don't have to pay further royalties to the original copyright holder. This type of music is great for accompanying projects where the budget may be a little limited.
Why Use It?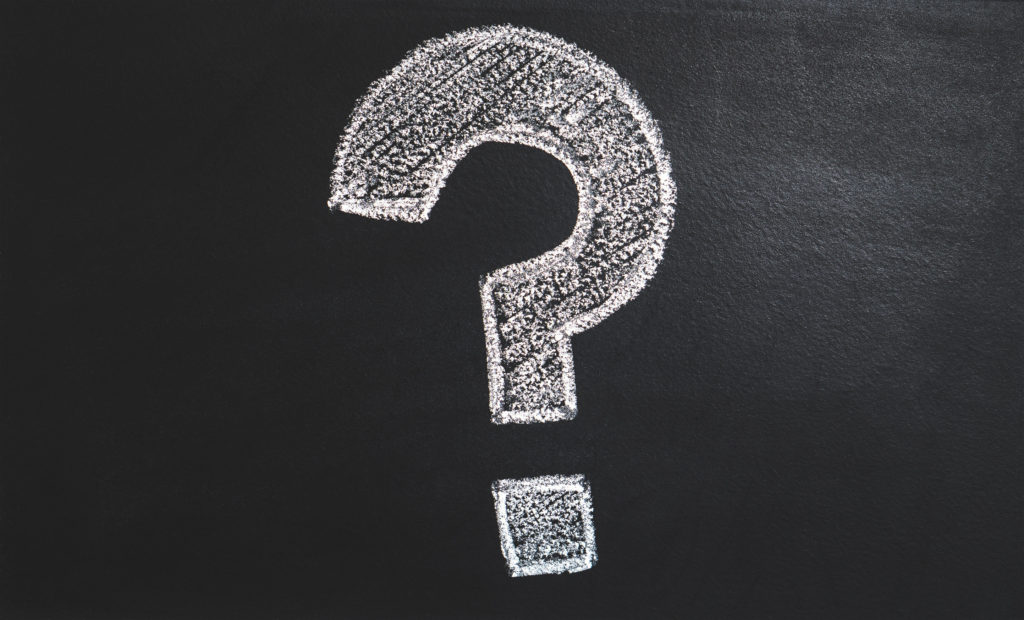 Adding Music
It can be tempting in many cases to forego adding music altogether. This can seem like a good time and money saver, and a simple way to cut corners. But, if you're being really honest with yourself, is that the best you can do? Are you allowing your creation to be the best it can be?
We touched briefly on how music can evoke emotion or aid in making something memorable. In the case of commercials and advertising, utilising music to ensure a product or brand hooks into the audience's memory is a game changing marketing strategy. It's just the same for content creators trying to improve the channel subscription rates or videos' view counts.
A project that is lacking in music often feels unfinished, unless it's an obvious stylistic choice. Content runs the risk of feeling dry and lifeless without any musical introduction or intermission.
Why Royalty Free, Specifically?
So, it's easy to understand why you should add music to your content projects. But, why use royalty free music specifically? Well, we have briefly mentioned the cost aspect already, and this could be the primary reason content creators opt for royalty free music.
Another big beneficial factor in using royalty free music is time saving and ease. Maybe you have a little understanding around music licensing already, but do you think you have the same understanding as, let's say, Universal Music Group's (UMG) legal team?
Imagine having to contact these companies, correspond, and negotiate with them every time you want to use a snippet of a song. It would take massive chunks of time away from actually creating your project, whilst probably giving you a nasty headache!
Choosing royalty free means avoiding complicated legal conversations or hardcore haggling. This means your brain is free to come up with more awesome ideas, rather than sweat the legal stuff.
How Much Does Royalty Free Music Cost?
Money can't buy happiness, or love, according to The Beatles. But, it can buy music, and that's basically the same thing, isn't it?
As hinted at previously, the cost of licensing a popular track can be a little stunning. It all depends on the track, the record company, your own project, and many other factors. The table below outlines some of the costs of music licensing as an industry standard. Brace yourself…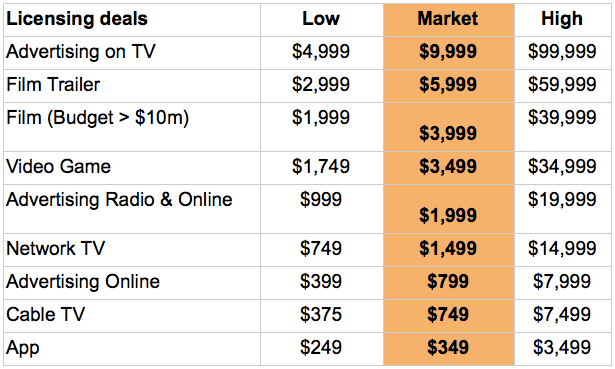 If you're a content creator who is just starting out, it's unlikely you'll have the budget to license several songs. Of course, once you reach a certain level and obtain a healthy budget, it can be well worth forking out for famous tracks.
The cost of royalty free music varies depending on where you source it. A popular misconception is that royalty free music means it's free of charge. Whilst this sadly isn't the case, it's an awful lot more affordable than licensing chart toppers.
At Synchedin, a music licensing subscription platform, you can download unlimited royalty free music for just $4.99 per month. So, rather than hundreds of dollars spent on a few tracks, you can spend a few dollars on hundreds of tracks!
What Can It Be Used For?
Music licensing and copyright can get complicated, and there can be different limitations in terms of what you can use songs for. Again, depending on where you source it from, royalty free music can be used for a plethora of things.
To use music alongside visual projects, and also podcasts, you will need a sync license. Fortunately, this aspect is also covered when you use tracks from Synchedin.
Films, vlogs, educational videos, podcasts, livestreams, commercial projects, game soundtracks. These are just some examples of projects you can use royalty free music alongside.
Some films are famed for their soundtracks just as much as their script or action sequences. So, why should your indie film have a less than amazing soundtrack? By using royalty free or stock music, you can ensure the audio dimension of your movie stands out as well as any blockbuster's.
Even if your project is more personal, perhaps a wedding video or footage from a big birthday party, it deserves quality music. If you plan to share your cherished memories and significant life events with friends and family online, you still need to follow music licensing rules. Adding royalty free music is the perfect way to share your content easily, without breaking the bank or running into any copyright issues.
Examples of Royalty Free Music
If the universe of royalty free music is completely foreign to you, then you won't know that there are some big names out there.
Content creation breeds a community, particularly online. We love this, and are all for everyone sharing their knowledge, skills and creations with one another. A name that is always buzzing around online amongst creators is Kevin Macleod.
Kevin Macleod is an incredibly talented, diverse composer, producer and musician. Macleod's work has featured in thousands of films, YouTube videos and also video games. He applies his compositional brilliance to a vast range of genres and styles. In his catalogue you can find intense, cinematic, synth-laden soundtracks, relaxed, meandering jazz, and energetic world music.
Another producer who is a firm favourite in the world of royalty free music is Pacific. Creating royalty free tracks in the style of popular artists has seen Pacific's popularity skyrocket. Their track, Cruisin' inspired by Khalid, The Weeknd and George Ezra was met very favourably. Listen for yourself!
How to Choose the Right Track
With music being such a crucial and emotive element of video and cinema, it's important to pick the right tracks. So, how exactly can you go about doing this?
Have a Plan
You don't need to have the final product totally crystallised in your mind, but it will definitely help to keep the rough goal in your head when searching for audio. Asking yourself questions like, "what do I want my video to say?", "who is my audience?" and "what format is my video going to be?" will help dictate the style and feel of the music you are going to want to use.
For cinematic projects, you can afford to opt for more expansive tracks that have a longer running time and develop themes more gradually. If you are creating videos for TikTok, you're going to want to convey the theme and feel in a concise and speedy fashion, as well as make your video memorable. This means probably choosing catchy, fun music that will hook into your viewers' brains.
Get Inspired
Research pays off on almost any kind of creative endeavour. Watch videos similar to the one you are making, and make note of the kind of music you hear.
Depending on your project, it can be a good idea to stick to traditional soundtrack choices. If you are shooting for a stylistically traditional video, e.g. the use of Western Classical music in Jane Austen adaptations or similar.
However, impact and interest can be created when using music that may be non-traditional to the video content. For example, the series Peaky Blinders, set in post-war Birmingham in 1919, features an incredibly cool soundtrack of modern day rock bands, outlaw-ish folk, and various Nick Cave and the Bad Seeds covers. This anachronistic music breathes a real energy into the story, makes you feel more connected to the characters, and is a fantastic example of using music innovatively to elevate your video.
Browse & Play
If you've had a think about your final vision, had a watch of some similar projects but still aren't sure what sound to go for, simply take an aural wander!
Synchedin have a brilliant library of categorised music, making choosing music for your projects simpler and more enjoyable. Being able to filter your search by category, genre and even instruments makes our hand-picked library super easy to navigate.
Where To Find Royalty Free Music
There are actually a number of fantastic music licensing subscription sites out there, and it's important to choose the right one for you. This means taking into consideration your budget, the type of music you're after – instrumental and cinematic, or maybe you're looking for stems of tracks – and whether you're comfortable being tied into long subscriptions.
We highly recommend doing some research around the platforms available before making a decision. However, we feel that Synchedin is the best option for independent creators.
Synchedin
Built with you, the creator, solely in mind, Synchedin offers flexibility, freedom and unrivalled support. As creators ourselves, we understand the importance of having services you can rely on. This is why we've designed a service with the intention of making life as a content creator smoother and freer.
You might be a seasoned pro, or maybe you're just dipping your toe. If the latter is true of your experience level with content creation, it makes sense that you'd want a flexible subscription. Synchedin offers monthly and annual subscriptions at highly competitive rates.
In the name of keeping it simple, the license for any tracks you download will last forever, even if your subscription doesn't. So, no having to remove tracks from existing videos or films years after you release them!
Keeping things fresh and up to date is vital. That's why we add new tracks to the Synchedin catalogue on a daily basis. We're also proud to feature artists such as Ahrix, Pacific, and Kevin Macleod, who prolifically produce fantastic royalty free music.
We've made sure the site is easy to navigate and searching for the perfect song is a breeze.

With extensive filtering options, you can find the right track for you even if you only have a vague idea of what you're looking for.
---
To conclude this ultimate guide of royalty free music, no matter the content you create or your experience level, you can and should add music.
We hope that this guide has helped you to understand the definition of royalty free music and why it matters. With this guidance, you can get creating with confidence, and let your projects shine!