Music Licensing Sites | Artlist vs Synchedin
With multiple great music licensing sites out there, it can be tricky deciding which one is right for you. We've laid out exactly why Synchedin is the best for independent creators!
If you've got a film or video you've put time and care into, you want to make sure every additional aspect of it is perfect. This includes the music that you use. Due to copyright laws, you sadly can't just grab your favourite track of all time and stick it on your project – at least, not without facing some issues down the line. You need a sync license in order to use music alongside your visuals, but forking out for individual licenses can get pricey very fast.
This is where subscription based music licensing sites come in to save the day.
Opting for a subscription to one of these sites offers a host of benefits. Firstly, you will save a lot of money. Secondly, you will save heaps of time searching for the perfect music. And creators know that time is just as precious as money. Thirdly, you will have protection from any copyright claims issues, so you know your project is safe from controversy or disputes.
You can find lots of reviews and comparison videos on YouTube from content creators, breaking down different music licensing sites. But, as the new kids on the block, we at Synchedin wanted to highlight some of the similarities and differences between ourselves and Artlist.
Music Library
Understandably, the first thing you would look at when comparing services is the library of tracks on offer. Artlist has a library of roughly 8000 tracks, with new tracks added each month. Synchedin's library is currently just over 3000 tracks, with new music being added daily. Both sites offer a variety of fantastic full length tracks, rather than stems.
You can browse Artlist, however you will need to create an account and start your personal trial to access the library. With Synchedin, you are free to look around before signing up, and no trial is necessary as we offer a totally free option. Like Artlist, you can create your own collections on Synchedin, compiling different playlists to suit your needs. You can legally play these in the background of Twitch livestreams. So, if you're a streamer who just needs some background music, Synchedin is a great option as you can access the full catalogue without having to pay anything, ever!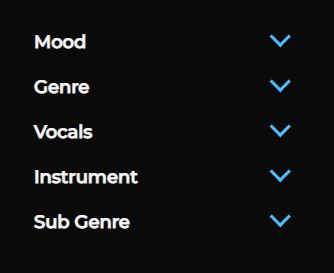 Search functions are massively important when it comes to music licensing sites, as you want to be able to find the perfect track as quickly and smoothly as possible. Artlist and Synchedin share similar search options, with users able to select tracks based on mood, genre and instrumentation. In addition to this, Synchedin offers the ability to search by sub-genre as well as vocal specifications.
SFX
Both Artlist and Synchedin also offer a sound effects library alongside music. Both these libraries are relatively new, and growing steadily. Whilst Artlist displays its sound effects library in categories, Synchedin allows users to filter SFX by category, duration, whether it is loopable and the license type.
The sound effects on Synchedin are licensed either as royalty free or CC0. This means that users can download and use any of the CC0 effects for free, no paid subscription required. For those with a subscription, you can download all the SFX, including the royalty free effects.
Interface
There's a lot to be said for the importance of user interface where music licensing sites are concerned. After all, the majority of these sites will have been designed with the aim of making finding tracks as easily and quickly as possible in mind.
Being able to view the wave form of tracks is incredibly helpful for indicating to the user the structure of the song. This can help to make snap decisions whilst scrolling through libraries, and is something Artlist and Synchedin have in common.
However, where Synchedin clinches the win for ease of use is in the downloading of tracks. Once you have decided upon a track, you can choose form MP3, WAV or FLAC files to download directly from the site to your device or machine. The process for obtaining downloads from Artlist is comparatively more long-winded. Once you have added your desired track to your basket, you can check out and from here the file is emailed to your associated address. These added steps can potentially interrupt flow, which is often an unwelcomed menace when in the throes of a creative outpouring.
Pricing Models
The major difference between Artlist and Synchedin is the pricing. As previously mentioned, you can create playlists, stream tracks and download CC0 SFX from Synchedin without paying a thing. Artlist does offer a trial period, but this does not include SFX and only enables watermarked MP3 downloads of tracks.
When it comes to paying for a subscription and unlocking all the features of each site, there is a stark contrast. Artlist offers a music subscription for $16.60 per month, billed annually at $199, and SFX for $12.41 per month, billed at $149 a year. If you want to have full access to both music and SFX you can pay $299 annually for this.
Synchedin champions the independent creator, and understands that flexibility when it comes to finances is vital. Subscriptions can be paid on a monthly basis, or users can pay annually and get a discounted price. For just $4.99 per month or $49.99 a year users can download unlimited tracks for personal and commercial use, all with full claims control. The SFX platform can be subscribed to for $3.99 per month or $39.99 a year.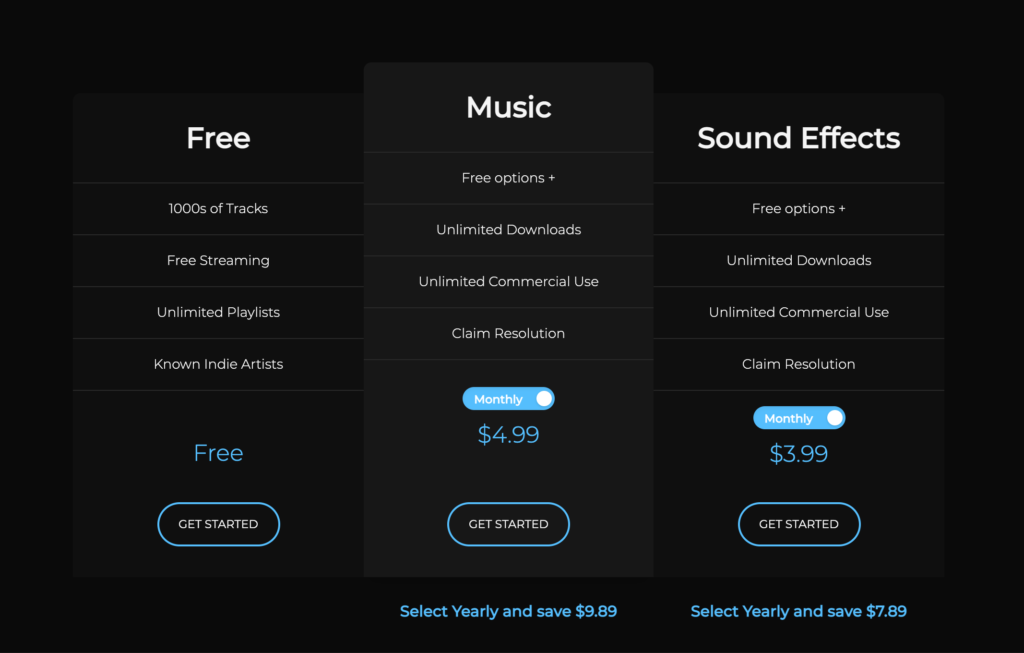 At the moment, Synchedin does not offer a combined subscription for both music and SFX, however this is in the pipeline. You don't need to be a mathematician to see that Synchedin enables you to make a great saving, even with the separate subscriptions, compared to Artlist.
---
So now you've got the full picture, why not check out Synchedin for yourself? Browse our library of awesome royalty free music and take a peek at our SFX.