Key Ingredients for an Irresistible YouTube Food Video
Like cooking, content creation isn't always an exact science. But, some meals do require specific things. Find out what the key ingredients for a YouTube food video are here!
You have a passion for cooking, and you love creating content. I'm sure you've figured this out already, but, why not combine the two and become a food content creator? As a free and widely accessible platform, YouTube is the perfect place to kick off a culinary content crusade.
Before you grab the skillet, empty out the utensils pot, and raid the pantry, you should carefully consider what makes a YouTube food video so bingeable. What are the star ingredients that help spice up a video and let it stand out from the rest?
You!
This first ingredient may seem a little obvious, but can easily go overlooked. Naturally, if you're creating YouTube food videos, you're going to feature quite heavily. But this means, you should really think about who you are, how you want to present yourself, and what you truly care about.
Once you've figured this out, you can decide what kind of videos you're going to make. Will you produce soothing, wholesome cook along videos like Peaceful Cuisine? Or would you like to emphasise your energetic, whacky personality to create loud, fun videos like Matty Matheson?
A Quality Camera
With YouTube being the second-largest website in the world, it's unsurprising that there is an awful lot of competition out there. This means that shooting a shaky video on an old phone isn't going to cut the mustard.
Investing in a decent camera to ensure you capture your cooking in HD is absolutely a must. To shoot a cooking video like a pro, you don't necessarily have to have a pro budget. There are cameras out there that will do a great job across a range of price tags. We've put together a list of the best vlogging cameras available in 2021, which should help lead you in the right direction.
Tasty Ideas
You can't have a food YouTube video without any food. Saying that a fantastic food video simply requires a fantastic recipe idea may seem over simplified, but hear me out…
Your favourite meal might be spaghetti bolognese, and that's fine – it's definitely in my top 5. But, it's a pretty standard dish, and there's probably millions of recipes for it online already. So, what's so tasty about your bolognese? Consider how you might entice people into checking out your video, making your bolognese unique and interesting.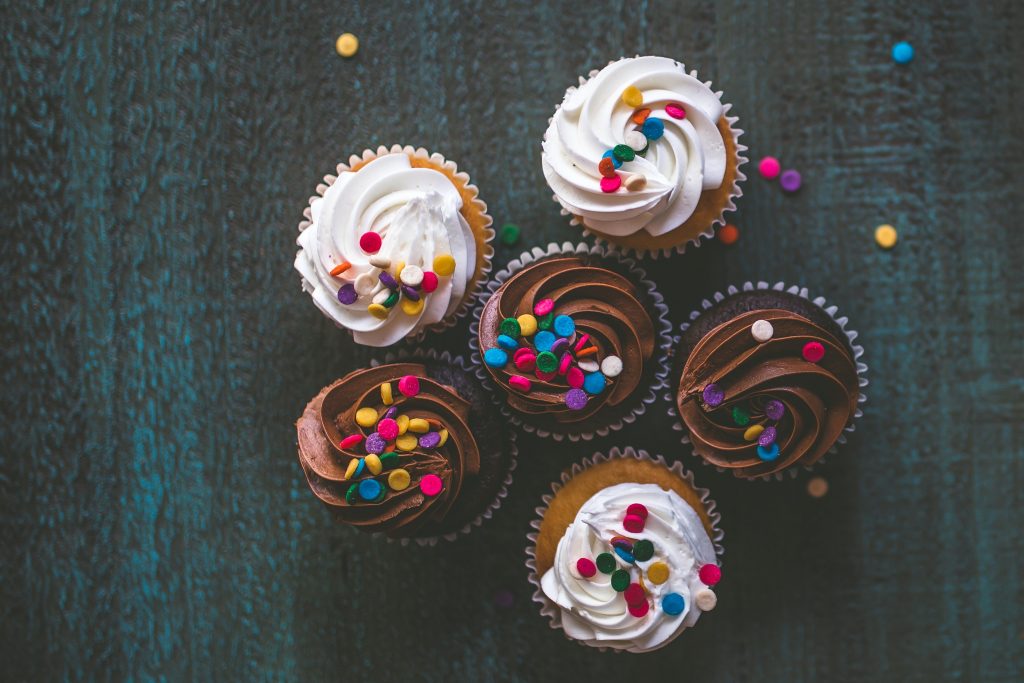 Checking out other food channels to see how they add excitement and flair to otherwise traditional dishes is a great way of whipping up inspiration. Heading to other platforms like TikTok to see what food trends are current is also a smart move.
Clever Shots
Filming a food video from one angle the entire time might be straightforward, but it's also pretty boring. Food is such an evocative thing, producing sights, sounds, smells (if only they'd hurry up and invent smell-evision already). Getting shots from different angles will help to engage viewers and keep them watching.
Some common angles in food YouTube videos include a simple full shot, bird's eye view, and plenty of close-ups. A full shot is perfect for tutorials, as it shows the whole work station, makes what you're doing nice and visible, and helps viewers to not miss anything. Bird's eye shots are a fun and professional looking way to give your audience a POV of what cooking a dish is like. Finally, close-up shots of the finished product are going to make your audience crave whatever you've just cooked up. They're a great way to capture the alluring steam rising off the top of a luxurious chocolate soufflé, or the mouth-watering cheese pull from a slice of freshly baked pizza.
Ideal Lighting
As with any kind of YouTube video, you need to make sure the lighting is right. Nobody wants to sit through eight minutes of dingy kitchen action. If you plan on creating cook along tutorials in particular, you will need to ensure that your subject is highly visible.
You can rely on natural lighting to illuminate your videos. This is a free resource, but it is temperamental, relies on you having a lot of windows, and does limit you to shooting at specific times of the day. Otherwise, ring lights are a brilliant and inexpensive option to throw even, diffused light over your subject.
---
The cherry on the cake of any amazing YouTube food video is music.
Sign up to Synchedin today, and start exploring a huge library of awesome royalty free music. With one simple license, all tracks are playable in the background of videos, with no copyright issues down the line.
Subscribe now for just $4.99 to access unlimited downloads, full claims control, and an array of wonderful tracks as your fingertips!