Podcast Music Licensing | Why You Need a Sync License
So you think you know sync licenses? We're not trying to trick you, but you do need one for non-visual projects too. Find out about podcast music licensing here!
What Is a Sync Licnese?
A sync license is needed if you want to use music alongside video or a visual medium. You're synchronising the audio to the visual.
Copyright and licensing can get complicated quickly, so, fortunately, this a relatively simple concept. A sync license allows you to feature music, either diegetic or non-diegetic, in your projects.
So, when you make a podcast – an entirely audio-based production – you don't need a sync license, right?
Wrong.
Podcast Music Licensing
We aren't trying to confuse you deliberately. We're well aware that we said a sync license enables you to add music to video. But you will also need one if you're adding music to podcasts (which we strongly feel you should be doing, by the way!).
Podcasts have increased significantly in popularity in recent years. Low production costs, accessibility, and the pandemic have been ingredients to produce a delicious soup of more people both making and listening to podcasts. According to Statista, there are an estimated 16.76 million podcast listeners in the UK in 2021. This is double that of the 2017 estimate, and is forecast to continue to grow.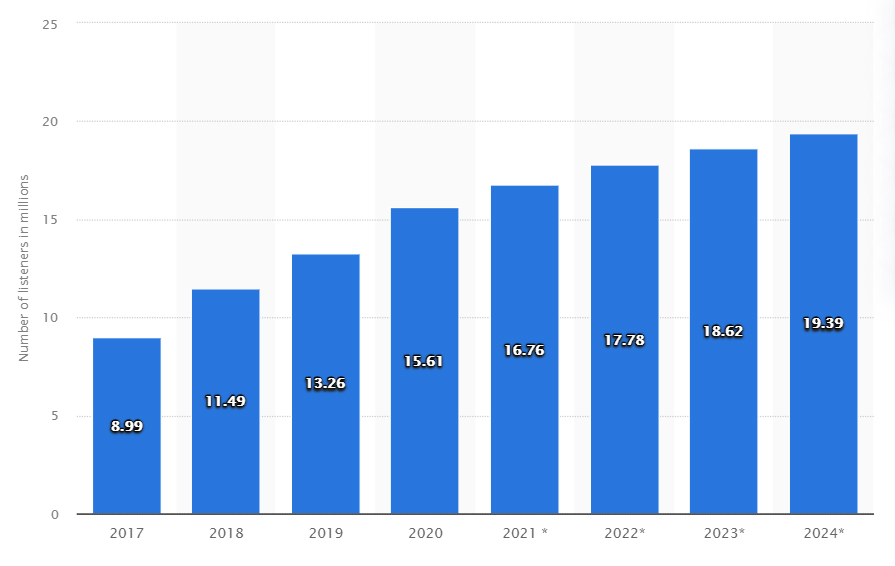 So, now is evidently a great time to have a go at creating your own brilliant podcast. But, don't forget about podcast music licensing. Although sync licenses are for things like film and video, because you'll be adding music to a large audio production, you'll still need the same license.
You could obtain a sync license on an individual basis, but it can be pricey. Signing up to a site like Synchedin means you can get hold of endless tracks for your podcasts without breaking the bank.
Subscribe from just $4.99 per month to access unlimited downloads, all with the sync license covered. The entire Synchedin library is royalty free, meaning no extra hidden costs. Who says creativity has to be expensive?
Sign up today to start your search for your perfect podcast intro music!