Essential Gear for Hiking Videos in Summer 2022
The beauty of content creation is that it's boundless. Share your adventures and create outstanding hiking videos with this essential gear!
You might be a seasoned pro, or heading to the hills for the first time – you should document your hiking trips. Travel vlogging is an incredibly popular channel niche on YouTube. People love to escape vicariously through content creators, dreaming of distant lands and enviable escapes.

If you're eyeing up a travel vlogging career, but don't have the budget to go globe-trotting, fear not. You can become a travel vlogger without going abroad. Hiking is the perfect activity for getting out and about, seeing the sights, whilst staying on home turf.

This summer, start your journey towards YouTube revenue, and make some hiking videos.
Why Hike?
Just in case you're not someone who's used to wandering around in the wilderness, we've laid out some benefits of hiking. These benefits will not only make your YouTube content more interesting, but they'll also contribute to a healthier and happier life!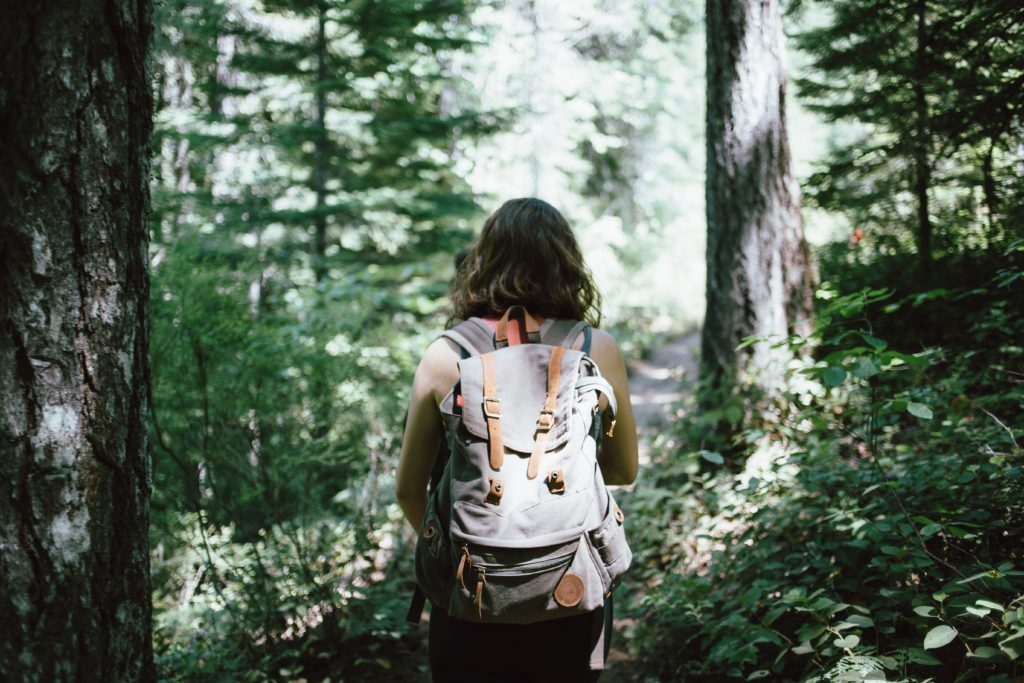 Improved fitness – ascending steep inclines and traversing lengthy trails does wonder for your health and fitness. Gain strength, whilst improving your cardio abilities, all whilst enjoying the beautiful outdoors.
Amazing scenery – hiking allows you to take in views that seem straight out of a cinematic production or National Geographic documentary. Catch the perfect sunset, or even witness a stunning sunrise peeping from behind the mountains.
Bathe in nature – it's well-known that we live in a digital age, and can easily spend too long on screens or social media. Hiking lets you disconnect from that noise, and nourishes your soul with meaningful moments.
Learn something new – it's not just the tracks that are steep in hiking, the learning curves can be as well. There are lots of important knowledge skills to be developed, and these are things you can share with an eager audience.
Set achievable goals – hiking is the perfect opportunity to set goals for yourself that you can actually tick off. Having this kind of measurable progress, as well as genuine gratification, is amazing for your wellbeing. Plus, audiences love content that follows a personal journey!
Essential Gear for Hiking Videos
Setting off for a trek without the proper equipment isn't a good idea. Equally, you don't want a case of "all the gear and no idea". If you're new to both hiking and content creation, both activities themselves require a decent set of gear.
We've listed the essential gear you need for both creating hiking videos, and hiking itself. The key is to have everything you need, without weighing yourself down too much.
Map
Whether it's digital, nestled within a trail guide, or your good old-fashioned, crumpled up in your back pocket giant sheet, you need a map when hiking. It can be easy to wander off the beaten track and forget which is the way back. Brushing up on your map reading skills is an essential.
First Aid Kit
You never know what scrapes you might get into during your expeditions. Having a first aid kit with you to stave off any emergencies is always a wise move. A lot of essential hiking revolves around safety, by the way!
Appropriate Clothing
Of course, in winter, we know to bring jumpers, waterproofs, and spare layers. But, in summer, it's just as important to dress properly. Cool clothes to avoid heat exhaustion, as well as a hat and sunglasses to keep the sun off, will make your life easier. This also goes for sunscreen – you don't want to be dealing with sun stroke at the peak of a summit.
Food & Water
This one is a biggie – take more than you think you need! I know I said it's best not to weigh yourself down too much, but sustenance is not something you want to skimp on. You can get awesome dehydrated pouches of full meals that provide a tonne of energy when combined with hot water. All you need is a small portable gas stove.

Staying hydrated when you're exerting yourself in the sun is vital. You can't climb hills and hold up a GoPro if you're dehydrated and cramping up!
Camera
Good luck trying to film a hiking video without a camera! There are loads of great vlogging cameras out there that will produce quality video. A strong choice is a GoPro, since they're lightweight and designed for activity. You can still capture stunning 4k footage, and utilise powerful stabilisation features for smooth footage.

Nothing amps up a YouTube video like breathtaking drone footage. You can take seriously cinematic drone shots using a DJI drone, without breaking the bank.

Using a camera with a wide angle lens will let you capture sweeping shots of the scenery and your surroundings. Pair this with a tripod, and you can record yourself scrabbling up rocks or wandering down paths as if you had someone helping you film.
Microphone
If you plan on talking to the camera, you need to make sure your audio is clear. There are some great mics you can plug right into cameras, like the Rode VideoMic GO. Whatever you opt for, make sure it has decent wind protection, since it can get breezy high on those hills.
Charged Batteries
Make sure your camera's batteries are charged, as well as your own! If you've travelled a fair way, the last thing you want is to get halfway round a trail only for your camera to die. Ensure batteries are charged, and take spares with you as a back-up!