How Did 'Among Us' Become Popular?
Why has Among US, by game studio InnerSloth – a three-person team, gathered so much interest since from June 2020, two years after its initial release?
Among Us is hidden role, online multiplayer similar to board games such as Saboteur or Shadow Hunter, but in space!
You and your crew of up to 10 people have tasks to complete on your spaceship, however not all is as cosy as it seems as there can be one or two imposters on board.
The imposters create tension throughout the game by killing off each crewmate one by one. A meeting is called between everyone when someone stumbles upon a dead body.
During your tasks, you shouldn't talk to each other. When a dead crewmate is found, a meeting is usually called by the person who finds the remains, where everyone has the chance to prove themselves innocent or point suspicions towards others.
The aim of the game for the crewmates is to find the imposter before they kill everyone on board or complete all their tasks to win, and the aim of the imposter is to kill everyone on board undetected.
Among us is free to play for mobile players and $4.99 on Steam. It's had quite an unusual player base development, going from a peak of 19 players on Steam in November 2018 – nearly 6 months after release – to an average of around 380,000 players in September 2020.

It's currently the most watched game on Twitch.tv with an average of over 40 million hours watched in 7 days alone, and around 245k people watching daily.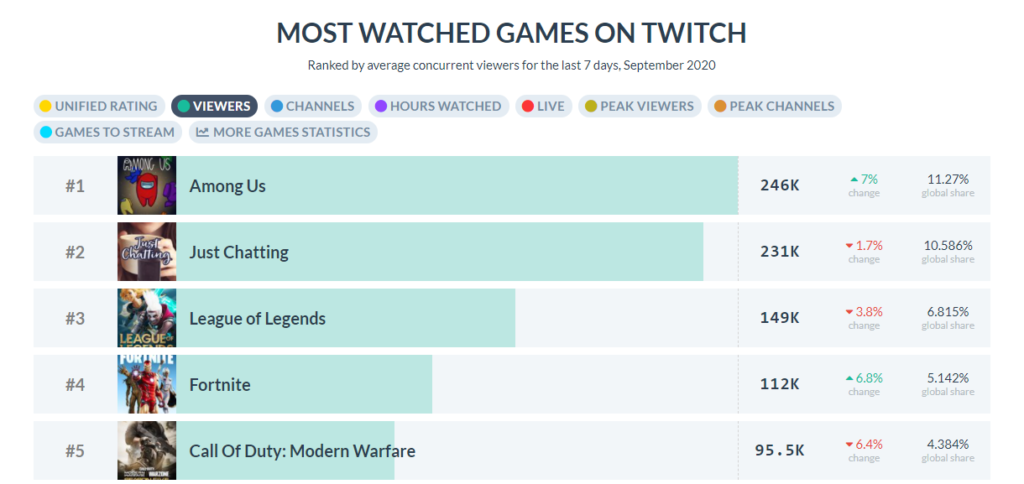 But how did Among Us get so popular so long after its initial release? No one really knows who started bringing attention to this missed gem, but we do know that it has Twitch and YouTube streamers to thank for its revival.
During the pandemic, it's been near impossible to catch up with friends for a board game night where something like Saboteur might be brought out as a warm up for the dedicated knights of the wooden table. We're in a situation where people are calling for something light, quick firing and most importantly that we can play together. Among Us ticks all of these boxes.
But it can't be just the pandemic that's grabbed everyone's attention, there are other factors at play here.
The game requires 1 GB of RAM, and 250mb of space. If you're PC is powerful enough to run Windows 7, it can handle Among US. As mentioned earlier it's also available for iOS and Android and has cross play capabilities between mobile and PC.
You don't need to be a gamer to enjoy Among Us. If you haven't heard about it from Twitch or YouTube, it's probably been through your friends asking you to join their game. "It's free, just download it…" they'll say, and soon it's 1am and your fifth time of saying "OK, one more then I HAVE to go to bed."
---
If you are a content creator looking for music to add to your streams and uploads, check out Synchedin.
For a small monthly or annual subscription ($4.99/$49.99) you can use any track in the Synchedin Library in any video you make.