Top 3 Vlogging Kits for Beginner YouTubers
At Synchedin, we definitely understand the value of having everything you need in one place. Here are 3 vlogging kits, ideal for YouTubers just starting out!
No matter what sort of content you plan on creating, there are a few essential bits of equipment that you're going to need. When making a YouTube video, you need to think about both the visual and audio aspects of your content. Specifically, how you capture these things.
With this in mind, the three vital things to consider are the camera, lighting, and microphone.
As with anything, you can dive in deep and get as complicated and complex as you please. You could spend ages researching the best mics for recording your voice, or sift through the specs of recommended vlogging cameras. However, for beginner content creators with limited knowledge, keeping it simple makes sense at first.
It can be tempting to just use your smartphone to film content for YouTube. After all, the cameras on them are getting more and more advanced. But, with such fierce competition out there, you should be aiming to create content of the highest quality that you can. This is why opting for a handy, all-in-one vlogging starter kit is a wise move. With that said, the right kit can elevate video captured with a smartphone. We should be clear on one point; although vlogging kits will save you money, they aren't necessarily cheap. If you're serious about your YouTubing career, you're going to need to make an investment to some degree.
We've listed some of the best vlogging kits available to help you on the start of your YouTube content creation adventure.
Canon EOS M50 Video Creator Kit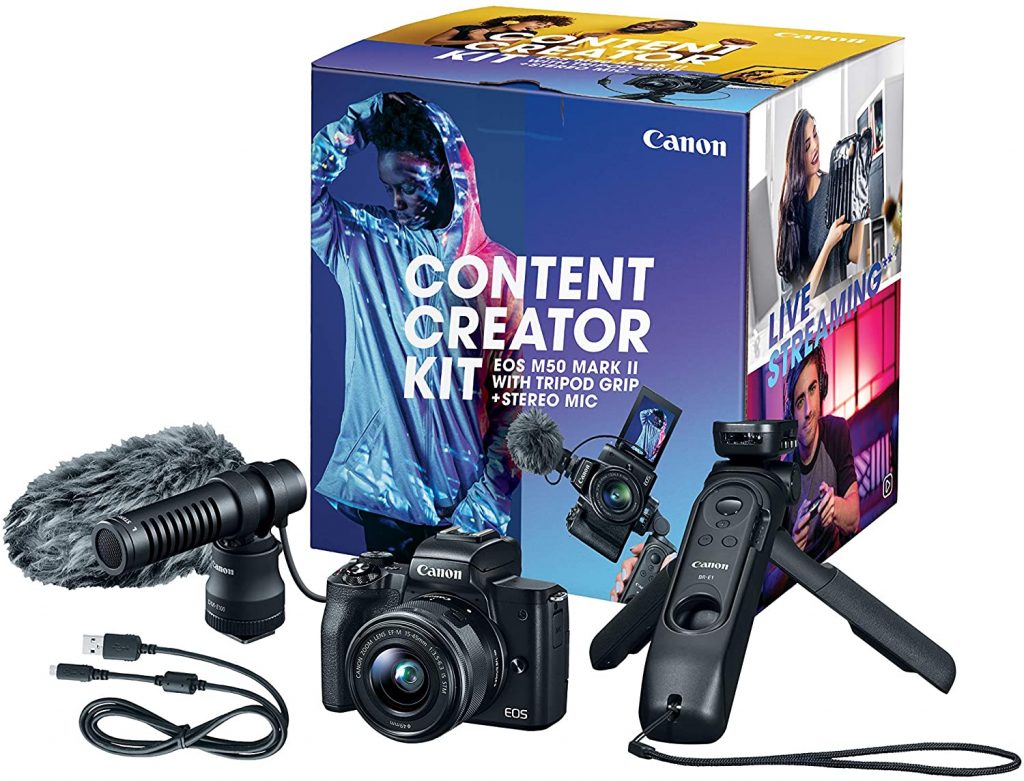 This vlogging starter kit doesn't come with heaps of accessories. But, it does include the most important things you need for content creation; a camera, microphone, and SD card. Not only that, but they're the firm favourites of many an established vlogger, let alone beginners.
The Canon EOS M50 mirrorless camera is less powerful than its superior, the EOS R, but it is still laden with features. On top of this, it shoots in 4k, is super intuitive and comes with that handy touch screen.
The Rode VIDEOMIC GO microphone that comes in the bundle is another vlogging staple. It's ready to go with no faff, simply connect it to the camera and start recording.
At $899, this bundle is great value for money considering the quality of the included components.
Canon EOS R Bundle
Usually, as a beginner, attractive vlogging kits are those which are easy on the bank account. However, if you find yourself as one of the lucky ones with some money to invest from the start, the Canon EOS R Bundle is a fantastic, comprehensive kit. You may be noticing now that Canon are big on their bundles, and full of quality equipment to help you create professional level content right out the gate.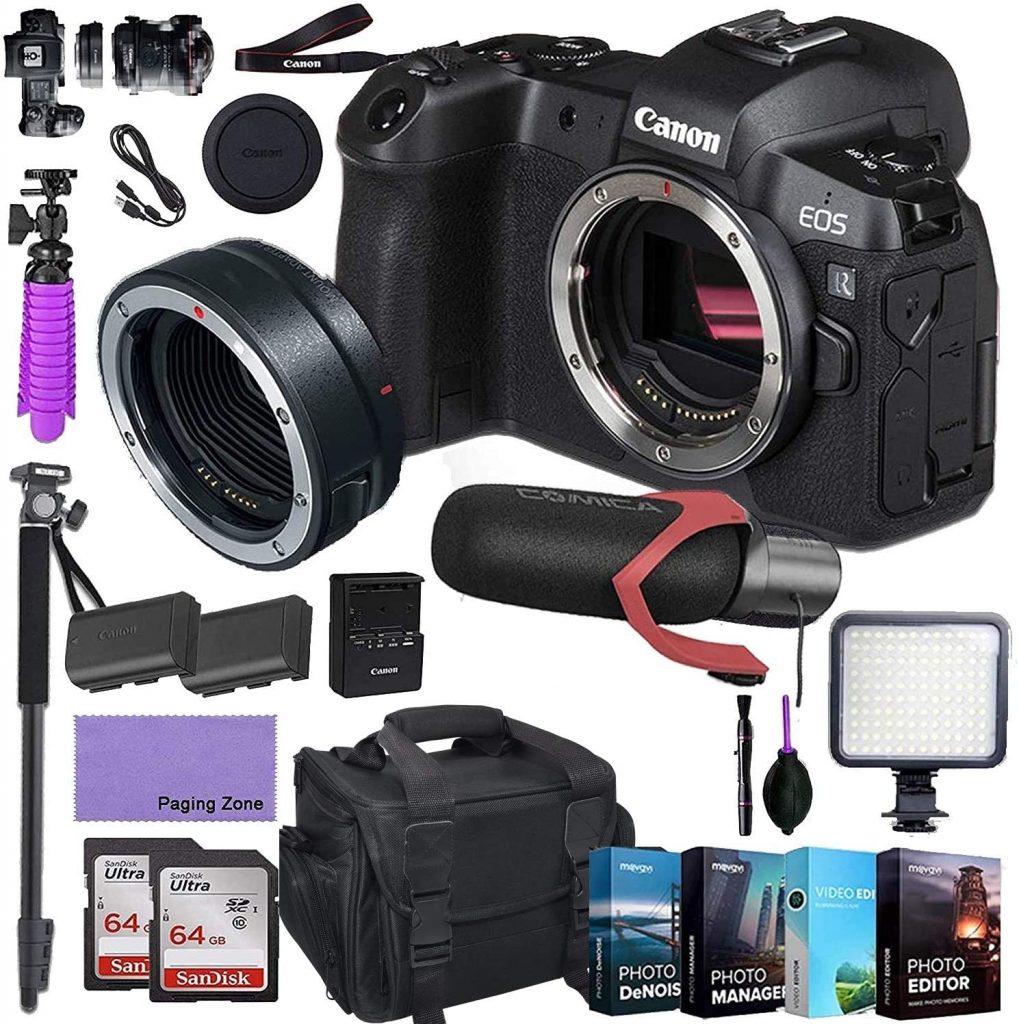 The price tag of $1,799 is certainly something to cause a sharp intake of breath, but just take a look at what you get for your money.
The mirrorless camera alone is one of, if not the most, popular vlogging cameras amongst YouTube creators. An incredibly powerful compact camera, you can shoot video in ultra-high definition, giving you beautifully crisp video. The bundle includes a professional standard shotgun microphone for flawless audio. You also get a mount adapter, increasing the range of compatible lenses, although you will need to purchase these separately. You'll also find a tripod and monopod in the bundle, giving you versatility in where you shoot, plus photo editing software and a load of handy little extras.
The camera alone in this bundle makes it fantastic value for money, and certainly equips you for your YouTube journey, whatever content you plan on creating.
Rode Vlogger Kit Universal
A great option for those wanting to shoot video using their smartphone, this universal kit from audio giants, Rode comes with everything you need to vlog on the go. Lightweight but all-encompassing, this kit covers your video, audio and lighting needs. It includes:
Complete mobile filmmaking kit
Directional sound pickup to reduce background noise
MicroLED light offers over four hours operation on a single charge
Three-position tripod for handheld or static use
Gimbal tripod head for accurate camera positioning
All-metal mount with rubberised grips for phones 65mm to 85mm wide
Dual cold shoe mount included
The VideoMicro attaches directly to your device, delivering the crisp audio that you'd expect when using anything from Rode. The furry windsheild also helps to reduce wind noise, making this an ideal kit for vloggers on the move. All your video is guaranteed to be well lit with the MicroLED light, and 8 coloured filters enable you to manipulate the shade to fit your environment. For around $135 this is one of the more accessibly priced vlogging kits, perfect for anyone dipping their toes into content creation.
---
Once you've got your hands on one of these kits and begun shooting your video, don't forget to add some awesome music to your content.
Synchedin offers a huge library of fantastic royalty free music, covering a range of genres and styles. All tracks have the sync license covered, meaning you can add background music without running into copyright issues down the line.
Subscribe from just $4.99 per month for unlimited downloads, and give your YouTube content that professional feel right from the start.